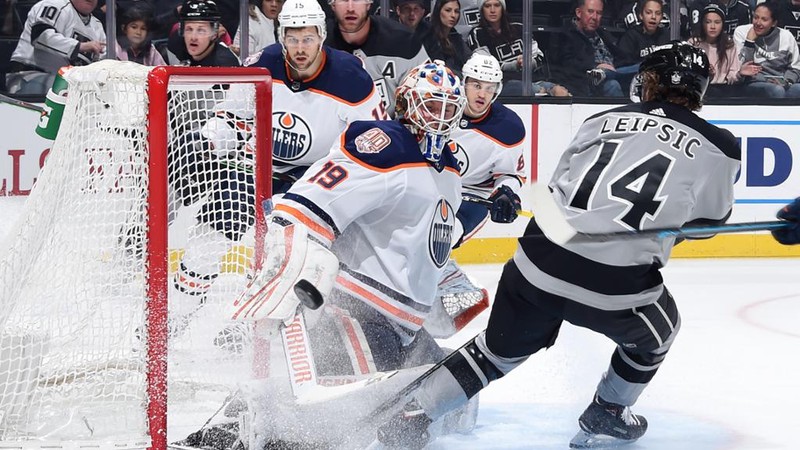 Well I only managed to catch the last few minutes of the Oilers game tonight and by the sounds of the broadcasters, that was a blessing. The Oilers were shut out by LA 4-0 and only managed to amass 16 shots over the course of the entire game.
The small portion of game I did see featured a lifeless Oilers team simply going through the motions trying to get to the end of the game. A sad sight to see after the Oilers finally pulled out of their six game losing streak by beating Arizona earlier in the week. Not the effort expected out of a team sitting just outside of the playoffs.
I'm not sure whats going on behind closed doors in Edmonton right now but I'm sure that the conversations aren't all rainbows and sunshine. The team is caught in a tailspin and right now we don't appear to have a pilot capable to leveling the plane off. It's almost tragic watching a hockey team led by the greatest hockey player on the planet continually flounder.
The coaching switch from Todd McLellan to Ken Hitchcock seemed like a great move under injuries started to hinder the club. Then the losing streak got out of hand when Oscar Klefbom went down with a broken finger. Peter Chiarelli then started making panic trades and every time he's makes a trade it always manages to make the team worse. Now the team seems to have lost all confidence and the window for making the playoffs could be closed before the end of the month.
The only saving grace for the Oilers right now is that a few of the teams they are currently chasing are also stuck in slumps. Colorado and Anaheim, the two teams holding the final wild card spots, are both 3-5-2 in their last ten games and have left the door ajar for any team trying to get back into the playoff race. The Oilers seem to be doing anything in their power to get that door closed as soon as possible.
The club is still several weeks away from getting Klefbom back and right now it doesn't appear like they are going to be able to hang on until his return. I hope the team can get the train back on the tracks but the doom and gloom is just seeping in from all sides.