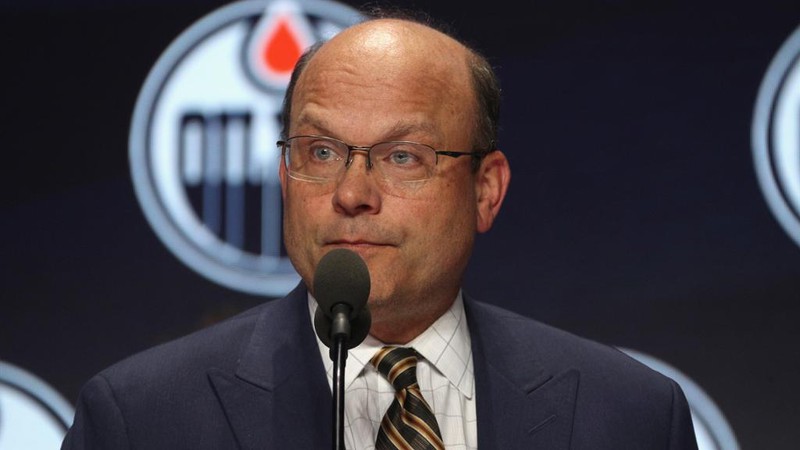 It was long, long, long overdue but the Edmonton Oilers have finally relieved Peter Chiarelli of his general manager duties. Peter Chiarelli set back the franchise close to five years with his sheer incompetence. He was the architect of a chain of horrific trade which saw the Oilers as clear losers over and over again. He signed players to salary cap crippling contracts and buried the team in cap hell without giving the coach and team the piece they needed to succeed. Good riddance and I'm so happy we can finally begin to move forward from this buffoon.
From trading league MVP Taylor Hall away for pennies on the dollar to shipping out Jordan Eberle for Ryan Strome (who was later traded for Ryan Spooner, who was waived earlier this week) to possibly the worst trade during his tenure acquiring Griffin Reinhart for a 1st (Mathew Barzal) and 2nd (Anothony Beauvillier) round picks. Ugly, ugly trades that no other sane GM would have ever made. At times it felt like Chiarelli was actively trying to make the team worse and it's shocking he was allowed to remain at the helm as long as he did.
There are still major issues in Edmonton's management and with how long Chiarelli was allowed to fester as GM, I don't have much hope things will be changed quickly. I hope that the last two months have been eye opening enough to force major changes this off season but that's something we will have to wait on. The Oilers are still plagued by the Old Boys Club and it seems like any ex-Oiler from the glory days is just handed out a job upon request.
Keith Gretzky will be taking over for Chiarelli on an interim basis and has inherited a bit of a dumpster fire. The team is right against the salary cap and it will be extremely difficult for the next GM to add anything of value to the squad. The top priority right now needs to be cap management and prospect development. If you can find a way to move a few of the bad contracts out, then you can start thinking about building up the team around McDavid.
I'm happy to see Chiarelli leaving today and it feels like there is once again a small ray of hope shining through the nightmare that has been the Edmonton Oilers.