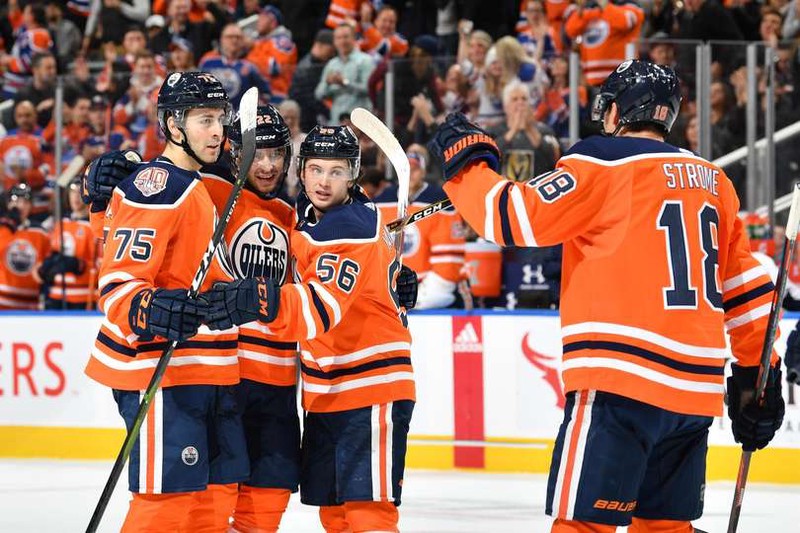 Well I missed my first Oiler's game of the season and it would appear I missed out on a great performance by the team. They take down the defending Stanley Cup champions, Evan Bouchard scores his first NHL goal, Ryan Nugent-Hopkins puts up another 2 points, Puljujarvi was a healthy scratch and I was no where to be found. Guess that's the price you pay for going to hang out with your friends.
Evan Bouchard has not had a ton of opportunity to be the offensive player he was in junior. Last season he was the top scoring defenseman in the CHL and before tonight, hadn't registered any points in the NHL. That all changed tonight when Bouchard ripped home a powerplay goal late in the first period. Nice to see home get his first goal and also good to see the second powerplay unit finding some success. Bouchard has now played 7 NHL games so the club has 2 games left before they have to decide if he will stay in the NHL and burn the first year of his ELC or head back to junior for the rest of the season. Would be great if he could go to junior or the AHL until Christmas and then rejoin the Oiler's but that's not allowed in the rules so it's not an option.
Nugent-Hopkins continued his strong season with another 2 points tonight. He's quietly on his way to the best season of his career with 11 points in the first 8 games of the season. It sure helps getting to play with Connor McDavid every night but Nuge is really coming into his own as a player this year. Hopefully Nugent-Hopkins can keep up his strong play.
In a strange twist, Jesse Puljujarvi was a healthy scratch tonight. The Oiler's fandom was full of rage upon hearing the news but I'm interested to see how they all feel about it tomorrow after tonights big win. His replacement, Alex Chiasson, scored again tonight so I wouldn't be surprised if we don't see Puljujarvi on Saturday in Nashville either. The young Finn has underperformed in his young career and tonight will only lead to more red flags being raise about him as a player. I hope this doesn't discourage Jesse but instead lights a fire under him and leads to him raising his game to the next level.
The Oiler's are now 4-3-1 in the month from hell and it's looking like the are going to escape the month with a decent record. I did not think our record would be this strong after 8 games and if the club can keep up the strong play, we could start rolling come November.