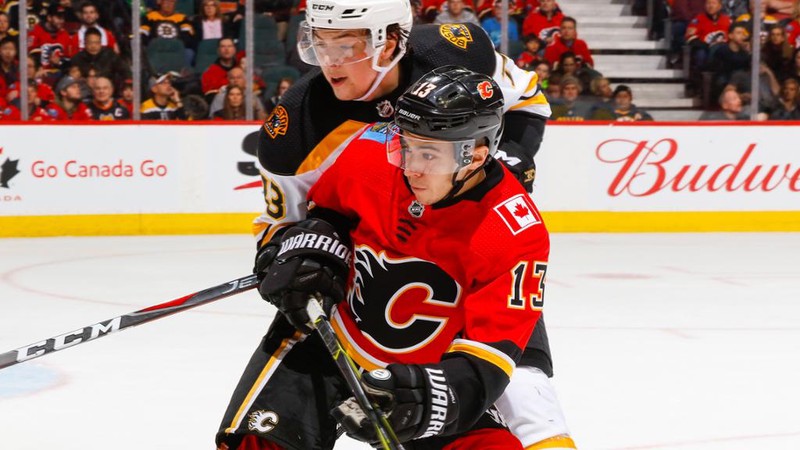 After some slow starts that led to difficult games in the last two outings, the Flames corrected their early game woes and came out flying against the Bruins. The first period went about as perfect as an opening frame can go tonight as the Flames potted 3 goals while keeping the Bruins off the scoreboard. The Bruins did manage a goal but it was called back after video replay showed the Bruins to be offside on the play.
The Bruins mounted a little comeback in the second period but were only able to get within two goals of the Flames. The strong start allowed the Flames to cruise to victory with the final score of 5-2.
Michael Frolik was the big story for the Flames tonight. After being a healthy scratch, Frolik got back into the lineup tonight and was reunited with the line he had so much success with last season. The 3M line of Matthew Tkachuk, Michael Frolik and Mikael Backlund, accounted for 3 of the Flames goal tonight and 2 of the goals came from Frolik in his return. With this line reunited and firing on all cylinders it looks like there will be some major scoring depth in Calgary this year.
Two Flames also managed to make a little bit of history tonight. First Johnny Gaudreau scored his 100th NHL goal, a huge milestone for him. A minute afterwards Juuso Valimaki scored his first ever NHL goal, which also ended up being the game winning goal. Both players will be very proud of their accomplishments and I'm sure both of them scooped up those pucks to put in their trophy cabinets.
The Flames are now sitting at 4-2 on the season and are still tied for second in the Pacific division. The standings are still very tight since it's so early in the season but I'm confident we will see Calgary emerge as a contender to win the division as the season progresses. Calgary's next action will take place on Friday when they head into Nashville to take on the Predator's. It will be a good test for Calgary facing off against the Central division leaders and should give us a better idea of just how good the club is.