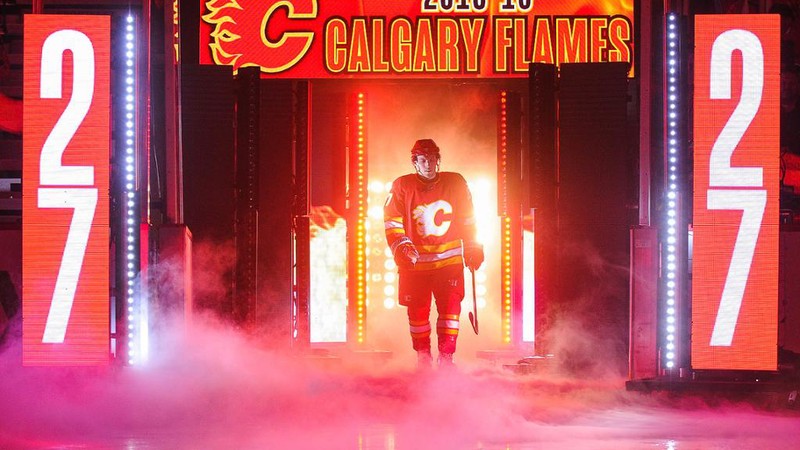 After a tough loss to open the season last Wednesday against the Vancouver Canucks, the Flames have rebounded putting together back to back wins. The Flames got pay back on the Canucks on Saturday for their home opener defeating the Canucks 7-4 and then last night they faced last year's President Trophy winners the Nashville Predator's and beat them 3-0. Flames are looking strong to start the season.
The top line of Gaudreau, Monahan and Lindholm have started to click after having a few issues on opening night. Lindholm looks to be a great addition to the club and right now it appears that both Carolina and Calgary are quite happy with the trade that landed Lindholm in a Flames uniform. The trio have combined for 16 points through three games and look to be establishing themselves as one of the top lines in the NHL.
The powerplay has looked very good so far with the club already notching five goals with the man advantage. Strong special teams always leads to wins and if Calgary can keep it up they will be able to remain at the top of the Pacific division.
The scoring so far has been fairly top heavy so far and the Flames will need more contributions from the second and third lines as the season progresses. Matthew Tkachuk does have 5 points so far but 4 of those points have come on the top powerplay where he plays alongside the Flames top line. The Flames are littered with talent in their top 9 so I'm confident that additional scoring will develop as the season wears on.
The biggest question mark for the Flames was goaltending coming into the season and it looks like Mike Smith has answered that call so far. Last night he posted a 43 save shut out against the Predators. It's nice to have a goalie that is capable of stealing a few wins over the course of the season. I said in my season preview that I felt if Mike Smith could just be average the Flames would be a playoff team. If he plays like he did last night all season long, the Flames could win the Pacific division.
It's still early in the season, but it's nice to be seeing so many positives out of the club. The top line is flying, the powerplay is rolling and Mike Smith is playing well in net. It looks like we are setting up for at least one playoff team in my home province of Alberta this season.