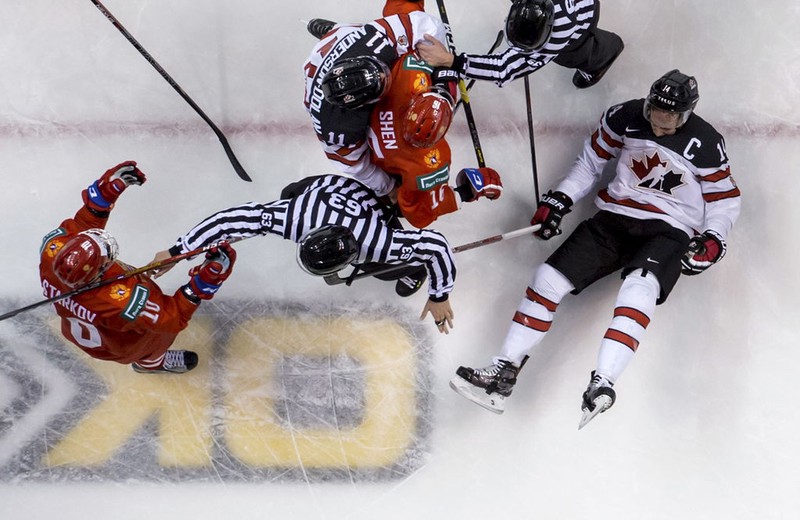 Right now the World Junior Hockey Championship is taking place in Canada. The tournament has been a staple in my life as long as I can remember. Almost all of todays NHL greats played in the tournament and being selected to participate as a player is a true honor. Even more of an honor is being able to wear the C for your country. This year that honor was given to Maxime Comtois for team Canada and he's been an embarrassment to the game and my country.
Maxime Comtois is a prolific diver. The act of flopping to try and draw a penalty. It's one of the least sportsmanlike actions in any sport and something I wish wasn't part of the game. Maxime Comtois has blatantly tried to draw penalties by diving all tournament long and its something I never thought I'd ever have to watch a captain for my home country ever do.
Above is a play Comtois made during the round robin stage of the tournament. He slashes the opposing player in the back of the legs, which should have been a penalty, and then as soon as the other player touches him, Comtois does his best Neymar impression as he looks like he just got shot by a sniper rifle. Comtois did receive a penalty for his poor sportsmanship and diving. And this is the young man chosen as the guy to lead my team in their bid for the goal medal.
Acts like Comtois' have no place in hockey. I wish there was more punishment and deterrents to remove diving from sports. In my opinion the player should receive at minimum a minor penalty and a 10 minute misconduct. Missing half a period might be enough to make players think twice before diving.
It's a real shame that Comtois is the face that Canada is showing the rest of the world. So far he's embodied anything but what Canada strives to be known for around the world. We are nice, kind, hard working people. We respect people around us and are willing to lend a helping hand. Everytime I see a young Canadian act like Comtois does, it makes me feel like those aren't the qualities we are instilling on our youth in Canada any longer and to think his coaches felt he was the best player to lead our team to the world juniors.