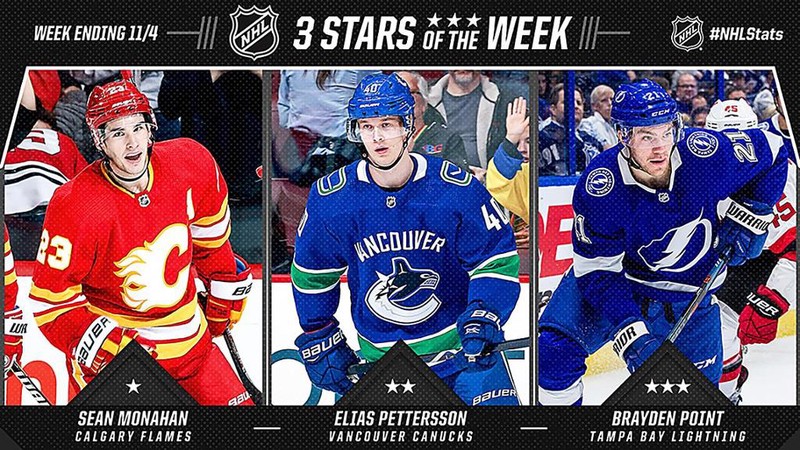 All-Star games often aren't very fair. They usually end up being popularity contests instead of being a way to reward players who are having outstanding seasons. The format for the NHL All-Star game has changed over the years and is now a little 3v3 tournament between all the divisions in the league. Each team sends one representative, 2-3 additional players are selected and then one final player is voted in by the fans for each division. So the game ends up being a pretty exclusive club.
My big issue with the roster this season is the exclusion of three particular players, Mitch Marner of the Toronto Maple Leafs, Brayden Point of the Tampa Bay Lightning and Sean Monahan of the Calgary Flames. All three players were denied selection to the team and Marner and Monahan were not eligible for the fan vote while both being in the top ten in league scoring. So 44 players are headed to San Jose for the All-Star game and 30% of the top ten players this season weren't invited. Seems a bit strange to me.
It's probably only fair to look at each player by their division when seeing who's headed to the All-Star game in their place. Mitch Marner has two teammates headed to the All-Star game, both with lower point totals. Mitch Marner has 16G-41A good for 57pts on the season. John Tavares sits at 29G-21A 50pts, a very good season and probably All-Star worthy. Auston Matthews had some injury issues early in the year and while he's played well only has 39pts on the season, nearly 20 fewer than Marner. But Tavares and Matthews are bigger names than Marner so they leap frog him due to popularity over merit. This is probably just going to be a reality for Mitch Marner no matter how great his play is.
Another victim of the same logic is Brayden Point. There is no way Point should have ever been excluded from the All-Star game and the league should be ashamed for his snub. Point is having an incredible season, 28G-32A 60pts. A solid ten points on the previously mentioned John Tavares and eleven points on his teammate Steven Stamkos. Point has been tearing up the league all season long and been a fixture in the scoring race. I can't even begin to wrap my head around him not being given an invite.
And then we have Sean Monahan who is quietly having an amazing season in Calgary. Unfortunately the All-Star selections were heavily skewed in the favor of the San Jose Sharks. Two of the Sharks are very deserving of the selections, Brent Burns and Erik Karlsson, the third isn't even close. Joe Pavelski has no business being at the All-Star game this season and only got an invite because the game is being played in San Jose. Even then he probably doens't even deserve to be the third Shark headed to the game with teammates Coutre, Meier and Hertl all having better seasons going than Pavelski. Sean Monahan, Elias Lindholm, Matthew Tkachuk, Mark Giordano, Logan Coutre, Timo Meier, and Ryan Nugent-Hopkins all players not going to the All-Star game, play in the Pacific Division and have more points than Pavelski on the season. Yikes, that looks real ugly and we never even bothered to look at how great Monahan has been this year.
The All-Star game is supposed to be the All-Stars from this season, send the best players from this season. Don't send the most popular players, send the most deserving. For players like Point, Monahan and Marner they may not get many chances to make the All-Star game, especially when they have to compete against their talented and more popular teammates. I would appreciate the league stepping in and rewarding a few of the snubbed players but that will never happen because that would involve admitting they made mistakes.