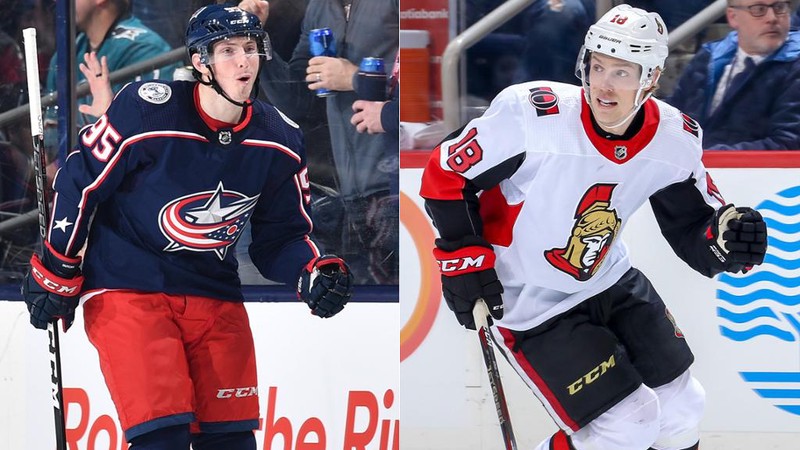 Monday is a borderline national holiday in Canada. Many Canadians, including myself will be glued to their TV's, radio's and phones waiting to hear news as all the trades come down before trade deadline hits early in the afternoon. It's one of those event in the NHL that gets fans over excited and ultimately end up disappointed. This year will be no exception as most of the big names being dangled as trade bait have all been snatched up.
It was gearing up to be one of the most star studded trade deadlines in recent memories and everyone was waiting until Monday to see a massive flurry of action. And then Matt Duchene was traded to the Columbus Blue Jackets and all the dominoes started falling days before the deadline. Duchene to Columbus took three huge names off the trade board, Duchene and then Panarin and Bobrovsky from Columbus. Well there goes three of the top four names rumored to be traded. Then yesterday more dominoes fell as Dzingel was also acquired by Columbus and then Zuccarello was acquired by Dallas. We are still over 24 hours to the deadline and suddenly there isn't much left to look forward to.
There is still a decent number of names being dangled as trade bait. The top name is still on the board, Mark Stone from Ottawa and there are a few decent players behind him, Wayne Simmonds from Philadelphia, Kevin Hayes from New York, Gustav Nyquist from Detroit and Marcus Johansson from New Jersey. That's a far cry from the top five we had Friday morning but overall still a decent list. I'm not sure all those players will still be available tomorrow morning with the rate that trades have been moving since Friday.
There is always the chance that we will see some surprises tomorrow but more than likely fans will be left a little disappointed by how little their clubs were able to accomplish (Unless if you are a Columbus fan). The past few years have seen more and more deals getting done before deadline day and it appears this year is no different. We could even see a few more deals done today leaving a fairly meager offering for tommorow.
I feel a bit bad for the two big sports networks here in Canada. Both TSN and Sportsnet go all out with their trade deadline day coverage and each year the deadline day seems to wither a bit more. We were gearing up for an amazing day but as the weekend has progressed, there will be less and less left to watch for on Monday. Maybe next year?