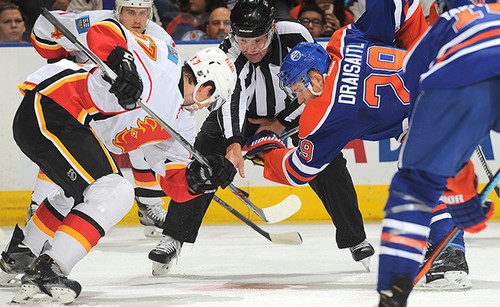 Oiler's and Flames played the first of two rookie games last night and things did not go well for my Oiler's. I wasn't able to watch the game but what I saw from the highlights was pretty much a game of pond hockey where one team had a vastly superior goaltender.
Both clubs had chance in the game and the final score of 7-3 for the Flames likely inflated the gap between the two clubs. At one point the Oiler's were out chancing the Flames 9-4 and were losing the game 4-1. Pretty rare that a team manages to score on every single scoring chance for any extended period on time in a hockey game but somehow the Oiler's goalies were so bad, they managed to pull off the feat.
A few of the more highly touted Oiler prospects had decent games. Yamamoto and Benson looked to be a step ahead of most of the other players in the forward group. Ethan Bear was likely the best defender on the back end. None of that is much of a surprise as those three players and three of the four best prospects attending the rookie camp.
Tyler Benson is quickly turning into the most intriguing player at the rookie camp. The former Vancouver Giant has had a rough few years health wise, being constantly slowed down by injury. He's come into camp healthy and appears to be a much better player than his draft pedigree would lead you to believe. The second round pick looked to be as good or better than a many players drafted higher than him. With his turn to professional hockey this fall, I think we may see him don the Oiler's jersey a few times this season. With the state of the wingers on the roster right now, we could even have a chance to crack the roster out of camp. It would be a long shot but I'm all for it if he can help improve the team.
Despite the result, yesterdays game has given me a bit more hope for the Oiler's prospect pool. I will be attending the next match between the Oiler's and Flames rookies on Wednesday night and assuming the goaltending is a bit better, it should be a great game.