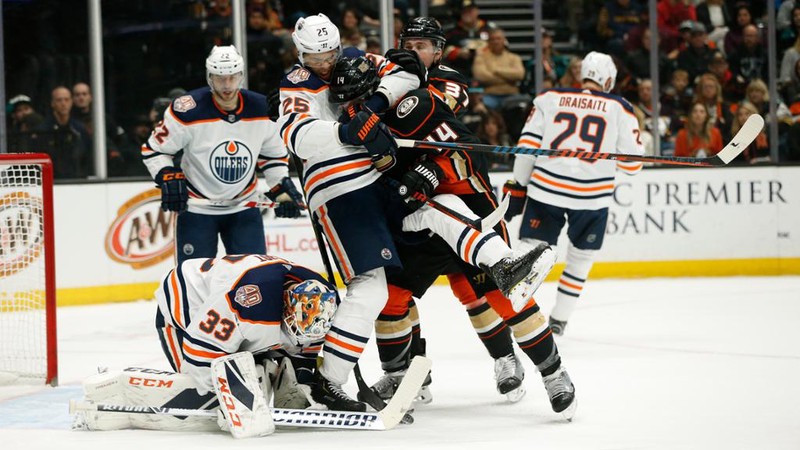 It's becoming a very jarring time to be an Oiler fan. Saturday they put up their worst performance of the season and then less than 24 hours later the Oilers absolutely crush the Anaheim Ducks. It's hard to draw any similarities from the two games as it seemed like two totally different teams showed up.
Saturday saw the Oilers lose 4-0 and Sunday saw them winning by that same score. The Oilers have a bit of a history of rebounding from disastrous outings, which is good, but having those bad games is something they need to remove from their repertoire. Cam Talbot was the star last night and could be ready to take back the starters role. Kris Russell returned from injury and was a much needed boost to the defense. Goals came from all over the roster, I think one from each forward line. And Draisaitl was back to centering his own line, the extra center depth really worked last night.
Oilers are back in action tomorrow to wrap up their current road trip. I am very interested to see what team shows up in San Jose. I would expect to see Cam Talbot again since he was sensational last night and Koskinen has been stumbling lately. The Oilers just aren't in a position where they can sacrifice games to boost up both goalies confidence. Who ever is playing better needs to take the reins and run with them. I'm guessing the Oilers at least start next game with McDavid and Draisaitl centering their own lines. Figuring out a way to have more than one line that's a threat to score will be necessary if this team wants to be an impact come playoff time.
After last night, the Oilers sit two points out of a playoff spot. Crazy to think that after the absolute nosedive they went on, the team is still well in the hunt. Anaheim is the team the Oilers are chasing right now so getting a win last night was a huge swing in the standings. As things sit right now their are four teams battling it out for the final wild card spot, there is a bit of a gap to the next group of teams and catching them will require someone to stumble or someone to go on a huge hot streak. Edmonton, Anaheim, Minnesota and Vancouver are all log jammed together. Only two points separate the four teams right now and it's looking like it's going to be an extremely close race come springtime. I'm optimistic the Oilers will be able to solve some of their issues and contend in that race.
One interesting storyline from last night was the return of Kris Russell. His return meant that newcomer Brandon Manning spent last night watching the game from the pressbox. The Manning/Caggiula trade is looking uglier with each passing day and with Manning already sitting out and not being missed, it makes you wonder why the trade was even made in the first place. Russell's presence was definitely felt last night. He was back to his usually shot blocking ways and really seemed to help steady the play of his defensive partner Darnell Nurse.
Another interesting storyline from the defensive group is the play of Caleb Jones. Jones had two assists last night and finds himself sitting comfortably on the top pairing with Adam Larsson. The Oilers have been asking for someone to step up while Klefbom is injured and with each passing game, Jones is looking more and more suited for the job. Jones had a pair of assists last night and has earned the coaching staffs confidence. When he was first called up, it was seen as a temporary move to give Jones some NHL experience and as a stop gap for injuries. Now I'd be shocked if Jones was sent back down to the AHL. The gap between Jones and players like Manning and Benning is substantial and widening with each passing game. I'd say that offensively Jones is already the Oilers best defenseman and as he gets more comfortable with the game at the NHL level, he will only improve further.
Hopefully we don't see another Jekyll and Hyde act from the team tomorrow. It would be nice to put together a little winning streak and take back the final wild card spot. Confidence and consistency seem to be a major factors for the squad this season and leveling things out is high on my Oilers wishlist. Each night when I turn on the Oilers broadcast, I'm not sure which Oilers team I'm going to see. When they are good, the games are amazing to watch. When they are bad, i quickly find myself looking for excuses to turn the TV off. Hopefully the club can find some solutions to that and begin to more that good team on a more regular basis.