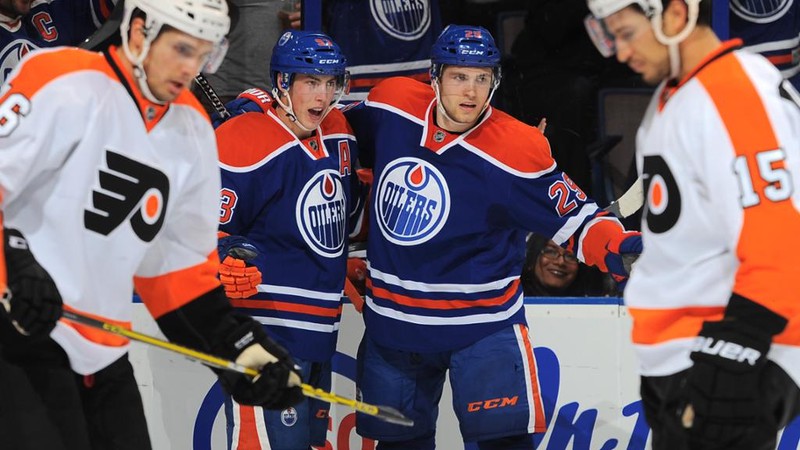 With Dave Tippett being hired as the Oilers new coach we should likely expect some changes from how the old regime ran things. Tippett has one set of amazing assets at his disposal, McDavid, Draisaitl and Nugent-Hopkins. We all got to witness just how good McDavid and Draisaitl can be together last year but also saw that 2 100 point players doesn't guarantee a playoff berth. So maybe Tippett should come into the season with a new approaching, running three deep at center.
The idea is pretty simple, you have McDavid, Draisaitl and Nugent-Hopkins all center different lines and pretty much rotate through those three lines all game. This accomplishes a few things for the Oilers, you always have a dangerous threat on the ice and you can help limit the over usage of McDavid and Draisaitl. If you rotate through three lines non-stop all game, each line should play roughly 20 minutes. Mix in the occasional fourth line shift, add some PP time and you should be able to keep that number close to 20 minutes. This is important for the Oilers because they relied way too much on McDavid and Draisaitl last season, running the risk of burning the pair out before playoff time. The Oilers also desperately need some scoring depth and this would address that but at the cost of having a dominant first line.
Another challenge of running three deep at center is finding six wingers that can hang with the big guys. I'd venture we already have three lesser pairs that have at least a bit of history and success together, McDavid-Kassian, Draisaitl-Chiasson, Khaira-Nugent-Hopkins. Next we have to find 3 more wingers to fill out the rest of the lines. I had a dream that Joakim Nygard was playing with McDavid so I'm adding him to the McDavid line. Draisaitl needs a left winger and there are a few options James Neal, Markus Granlund, Tomas Jurco and Tyler Benson would be my top 4 options. Personally I like Benson to fill in the role but fully expect a long list of guys to get a chance as 2LW. Lets say Benson lands the job and move one. Finally we have the Nugent-Hopkins line, Khaira plays on the left wing so we have a different set of option for this spot but thankfully James Neal can play on the right side so he gets the job.
Nygard-McDavid-Kassian
Benson-Draisaitl-Chiasson
Khaira-Nugent-Hopkins-Neal
Granlund-Haas-Archibald
Gagner and Cave as the extra's
The lineup isn't perfect but it is less one dimensional than we've seen in the past. A lot of pressure would be on Nygard and Benson playing major roles as rookies but they both have a sold start to their professional careers and I'm inclined to believe they can handle the elevated roles. If Tippett goes this route, I would expect to see a lot of shuffling amongst the wingers and doubt that my proposal would end up being the final version. I hope that some of the new faces find some chemistry with the core and help to reinvent the teams offense.
It's still a long way from training camp and we are likely to see a few changes to this list of players. I fully expect a few PTO's to be given out by the club and we could see a few surprises at camp. Maybe Puljujarvi signs, maybe he gets traded, maybe to goes to Europe. Maybe a few prospects shock us all and jump the queue right into the starting line up. No matter what the core of this forward group is going to be McDavid, Draisaitl and Nugent-Hopkins, I just hope all the other pieces find their places alongside them.