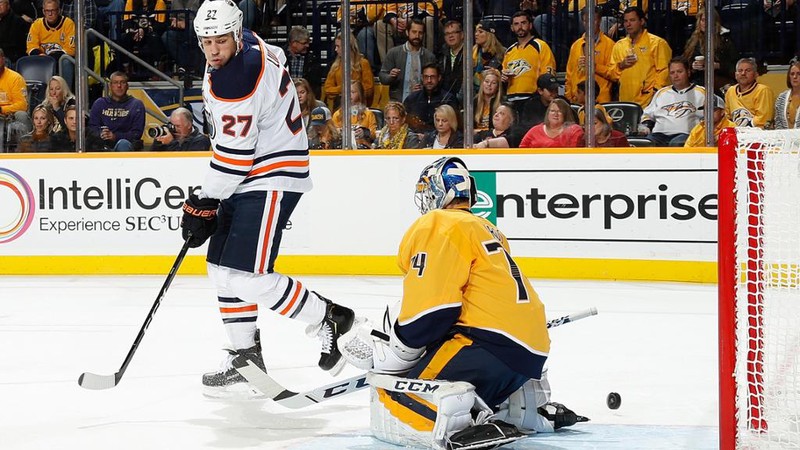 The Oiler's snapped a 13 game losing streak to the Predator's today after defeating the Predators 5-3 in Nashville. You have to go all the way back to 2014 to find the last time the Oiler's topped the Predators. That is a crazy long time for two teams that face off three times each season. It feels good as a Oiler's fan to see a bad streak like that finally snapped.
Mikko Koskinen finally got his first start of the year for the Oiler's and getting the win will go a long way to curb the criticism that has been directed Koskinen's direction since he was signed in the offseason. His $2.5 million contract with a no movement clause puzzled a lot of fans since he was never signed to be anything other than the Oiler's backup this season. The situation has just been amplified with Koskinen not seeing any action until the ninth game of the season. Overall he had a very solid game and I think the Oiler's will have more confidence putting him in between the pipes moving forward.
Once again the Oiler's were able to get goals from players not named McDavid. When there is more than one line contributing, it's very good for the Oiler's. Draisaitl and Caggiula both had two goals each, with McDavid grabbing the other. That's goals from three different lines and a vast improvement from the first few games of the season.
Jesse Puljujarvi was a healthy scratch once again and I'll be curious to see if he gets the nod versus Chicago tomorrow after missing the last two games or if the coaches are happy to once again field the same forward group that has really performed well the last two games.
Todays win catapults the Oiler's into third place in the Pacific Division. That would mean the Oiler's have a good chance to be sitting in a playoff spot come the end of October, the month from hell. Incredible to think the team is now sitting at 5-3-1 after plowing through murderers row to start the season. The schedule eases up moving in November but it will be very important for the Oiler's to continue to work on and improve their game. It has felt like the club has been improving all month long and right now they are playing a very good brand of hockey. Today's win pulls the Oiler's to 5-1-1 in their last seven games and all arrows are pointing upwards in Edmonton.