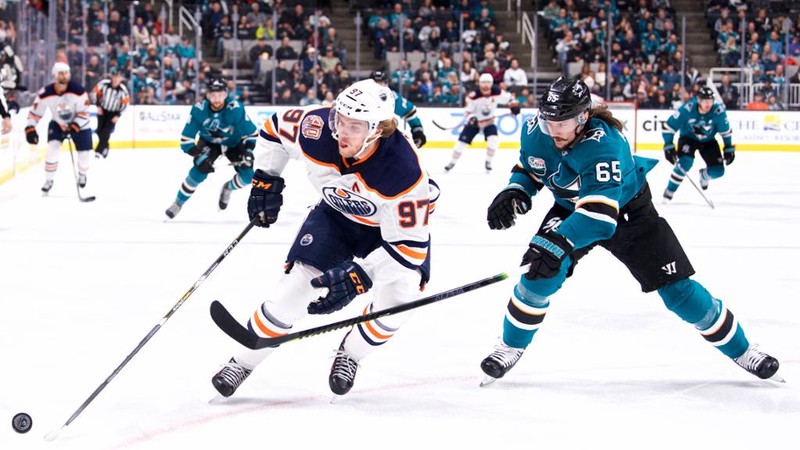 Being an Oilers fan right now is very much like riding an endless roller coaster right now. Just when things start to rise upwards, we come crashing right back down again. The Jekyll and Hyde act continued last night as the Oilers forgot they had a game against San Jose. The Sharks pounded the Oilers in a 7-2 victory.
I know how frustrating the team has been to watch as a fan and it makes me feel bad for the coaching staff of the team. I can't imagine showing up to work each day and not knowing if any of your co-workers are going to bother coming in for the day. The issues have gone further than the injuries on the backend (which is down to just Oscar Klefbom now) and this total lack of consistency is just becoming bizarre. It's becoming hard to tune into the games as a fan and even has me questioning my loyalty to the franchise.
I haven't been a life long Oilers fan. I was actually born in Calgary and grew up not really having any one team I followed. I had a few favorite players at times, Sergei Fedorov was one of them even though I despise the Red Wings, but never really was attached to any one team. Then things started happening in Edmonton. I had lived in Edmonton for a few years, most of my friends were in the Edmonton area and all of a sudden the Oilers were on their magical playoff run. The city was amazing. I've never been part of something so intense across a whole city. Edmonton was electric. The city was in a frenzy and after every Oilers game there was a near riot on Whyte Ave. And I loved it.
Over a decade later my level of love is started to waiver. I enjoy watching and going to games but I'm starting to lose that passion for the team. Hopes and dreams are starting to fade in Edmonton. The rink isn't electric for the home games. The sentiments of the fan base are deeply negative and the teams seems to be making no strides forward. The management of the organization needs a complete overhaul and it feels like the owner doesn't care because he'd rather hang out with all the Oilers greats instead of trying to make the team great again. The worst part is that the Oilers have Connor McDavid, the greatest player on the planet, and they are squandering their time with him. No effort has been made to build a supporting cast around him and every time the GM makes a trade it clearly makes the team worse. All of these factors have me questioning my loyalty to the oil drop.
As a fan there really isn't much we can do to impact the team outside of buying tickets and merchandise. I've been going to around 5 games each season and I think I will probably put a stop to that next year if I don't see major internal changes before the start of next season. I may just be a small drop in the bucket but it's really the only way I can have any impact on the team is with my wallet. One person may not matter much but other fans will start making the same decisions. I want to turn on my TV and see a half empty arena in Edmonton. I want the fans to send a message to the Oilers that we expect more from the franchise. I want change to happen in Edmonton.