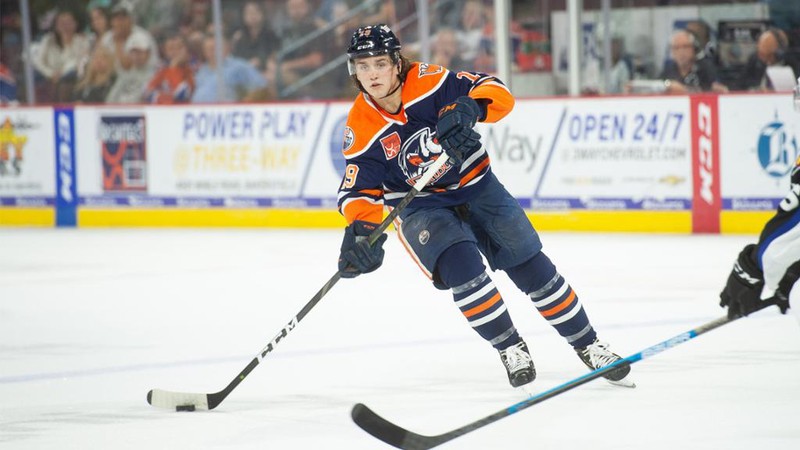 Day just signed his first NHL contract with the Edmonton Oilers this year after a very solid campaign playing for the Oilers AHL affliliate the Bakersfield Condors. Day is a very offensive defenceman that meanders his way through the US development route. He started off with the South Shore Kings of the USPHL-Pr league, playing alongside a pair of players who have been in the Oilers system Nolan Vesey and John Marino. From there Day moved on to one season playing for Providence College in the NCAA before transferring to Endicott College to close out his College career. Throughout this time Day showed his solid offense but wasn't ever drafted or signed to a pro deal.
After College, Day got a brief appearance in the AHL right after finishing up in College. His debut went ok and was enough to land him a permanaent spot in Bakersfield last year. Day really impressed in his first full season, leading a very stacked group of defencemen in scoring. Expectations were blown out of the water by Day and his season was good enough for the Oiler's to offer him an NHL contract this season.
The prospect pool for Edmonton is very loaded and Logan Day finds himself very far down on that list. He has great offense but the defensive side of the game needs improvement and he enters into a prospect group filled with players with better backgrounds than Day. That doesn't mean he doesn't have a chance to surpass those players and make his way to the NHL but he's going to have to clearly pass a long list of players before he gets a shot in the NHL.
Right now I have the Oilers defensive depth chart as follows:
Caleb Jones
Ethan Bear
William Lagesson
Joel Persson
Evan Bouchard
Dmitri Samorukov
Philip Broberg
Logan Day
Filip Berglund
Philip Kemp
That's some tough competition for Day to surpass. I expect most of the players ahead of Day to get a chance in the NHL this year but Day will need a lot of luck (or bad luck for others) to move himself to the top of the recall list. Broberg is in Sweden this year so no worries there. Bouchard and Samorukov will be entering their first years as pro's and may need full seasons in the AHL. I still feel that Bouchard likely gets to the NHL at some point this year but probably not until the second half of the season. Jones, Bear, Lagesson and Persson should all be ready for the NHL at the start of the year but we might only see one of them start there.
Day is 24 this year so his window to break into the NHL is starting to diminish. Without moving himself up the depth chart this year he might find himself stuck in no mans land as a player who's really good in the AHL but not quite good enough for the NHL.
One thing I find interesting about Logan Day is that he has one element in his game than none of his competition has, he takes an occasional shift or two at forward. There are two very dominant NHL defencemen who also were capable of this, Brent Burns and Dustin Byfuglien. I wouldn't be putting Day into there category but it is interesting to see both players careers having portions of time where they played at forward. We could have a situation where there are just too many defencemen in Bakersfield and the best opportunity for Day will be to switch positions to playing forward on a more regular basis.
I'm very interested to see how Logan Day progresses in the upcoming season and exactly where (and what position) he finds himself at on the depth chart. He's an interesting story, undrafted player who has worked his way into an NHL contract and maybe finds a way to keep working his way into the NHL.