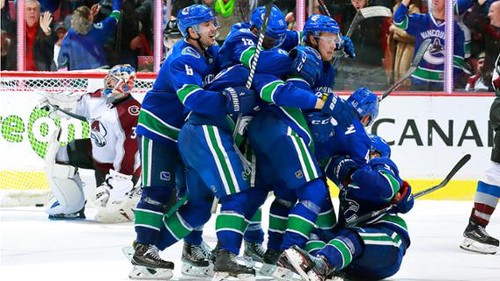 The Avalanche and the Canucks decided to out on a show in Vancouver tonight. It was a high scoring back and forth affair. The stars on both teams were in top form with multi point games from MacKinnon, Rantanen, Boeser and Petterson. The game went to overtime and 13 goals were scored. You almost feel bad for the defensemen in games like this.
It was pretty incredible how back and forth this match up was, the game was tied at seven different scores during the game. Neither team held a two goal lead at any point in the game, pretty crazy in a game that winds up 7-6.
Vancouver ends up winning the game on the back of Elias Petterson, who was an absolute legend tonight. Petterson now has 15 points in the first 9 games of his young NHL career. He seems to be a lock for the Calder trophy right now as long as he can stay healthy for most of the season. He's missed a few games already so that could be a concern moving forward. Petterson was a human highlight reel tonight, he had a crazy assist by banking the puck off the end boards, he tied the game tying goal with less than a minute left in the game and got an assist on the game winning goal in overtime. Petterson had five points overall and is already appearing to be a superstar.
Petterson wasn't the only player on display tonight. MacKinnon and Rantanen each got three points and are now first and second in league scoring. Rantanen already has 24 points on the season and looks unstoppable so far this year. Brock Boeser had a huge night for the Canucks, scoring two goals and adding two more assists. Boeser and Petterson are starting to emerge as one of the better duos in the league and have been helping a Canucks team over achieve so far in the season.
The win was Vancouver's third in a row and launched them into first place in the Pacific Division. It's looking like the Pacific Divison is going to be one of the more interesting divisions in hockey this season. No team has emerged as a clear favorite with Anaheim, Vegas and Los Angeles all struggling to start the season and Vancouver, Edmonton and Arizona all over achieving. The Division is pretty much flipped upside down from what the norm is in the Pacific and we could be seeing a bit of a changing of the guard. Teams defying the odds always makes sports more interesting and things are going to get real interesting once all the divisional games start happening more frequently.