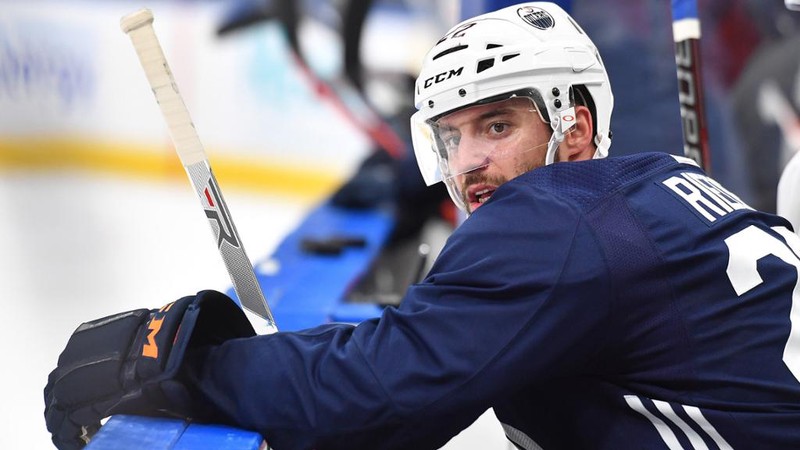 Oiler's got on the ice officially as a team for the first skate of the season today. 61 players are in attendance to open camp and 59 of those hit the ice today. Drake Cagguila was absent due to having the flu and PTO Scottie Upshall is sidelined with a knee injury.
The Oiler's split the rest of the players across three groups. Groups A & B are a split between NHL players and the players with the best shot at making the club. Group C is pretty much just the leftovers and consists of players destined for the ECHL this season. For those who don't know, the ECHL is essentially the farm teams farm team, two tiers below the NHL.
Each group had some consistent line pairings that help to give us an idea of what the coaches are thinking the players with the best shot at cracking the roster are. Connor McDavid, Ryan Nugent-Hopkins and Ty Rattie skated together and are likely to open the season as Edmontons top line. Newcomer Tobias Rieder (pictured above) was paired with fellow German Leon Draisaitl along with Milan Lucic, the trio is looking to be the second line this season. Behind them we saw a bit of a surprise as Jujhar Khaira skated with Ryan Strome and Jesse Puljujarvi. I was very happy to see Khaira on the third line and it really shows that the organization has faith in him to continue his positive development we've seen over the past two seasons. With Drake Cagguila and Scottie Upshall both missing the start of training camp, it's hard to say what the coaches are thinking for the fourth line just yet but it seems likely that Kyle Bordziak and Zach Kassian will be part of the fourth unit.
There are a few players who will have an uphill battle in the forward group, Kailer Yamamoto, Pontus Aberg, Alex Chiasson and Tyler Benson. All four players are roster hopefuls that were notably snubbed from the top four lines. I'm sure all four will get a chance to prove themselves as camp progresses but the message the coaching staff is sending on day one is that they will have to earn their chance to see NHL games this season.
There was quite a bit of intrigue around the defence today as Darnell Nurse is currently holding out and Andrej Sekera is likely sidelined for the season with a knee injury. This opens up opportunities for some new players and right now it appears that the two off season signings, Kevin Gravel and Jakub Jerabek, will be positioned to have the best chance at earning those spots.
The players that the coaches have placed just below the top three defensive pairing are a slew of young players, a few of whom I've talked about over my last few blogs. Ethan Bear was paired with Keegan Lowe, I was quite disappointed by this since Lowe was absolutely dreadful in his brief NHL stint last season. PTO Jason Garrison was paired with this years first round draft pick, Evan Bouchard. This pairing seems like a fantastic idea, an offensively minded veteran and an offensively gifted rookie. Caleb Jones was slotted in below Bear and Bouchard which I found a bit surprising, I really expected Jones to start camp alongside either Bear or Bouchard. With how well Jones played in the rookie camp, I feel a bit bad for Jones.
I'm looking forward to watching how lines and pairings evolve throughout training camp. We probably won't see any players getting cut until next week, most coming from Group C. After we get past that point each decision the coaching staff makes will become more important and we will get to see who has stepped their game up to the next level and is ready to earn a spot in the NHL.