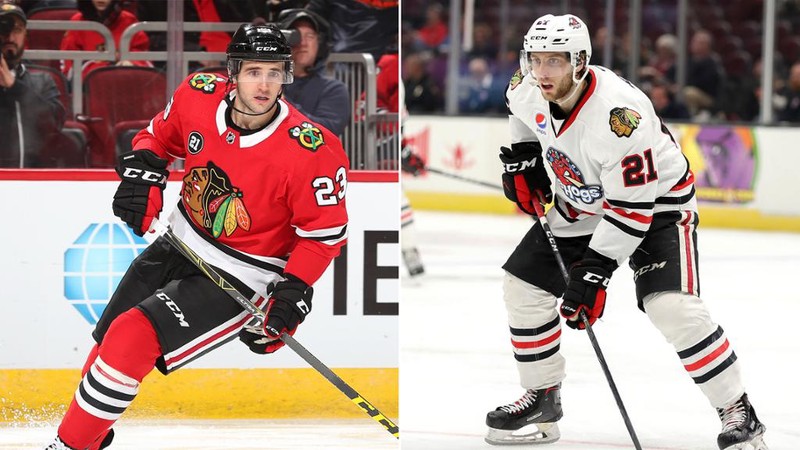 Today might end up being the most active the Oilers have been in the trade market in recent memory. Many trade deadlines go by for the Oilers with less action than we are seeing today. Peter Chiarelli just executed his second trade of the day sending Drake Caggiula and Jason Garrison off to the Chicago Blackhawks for Brandon Manning and Robin Norell.
This trading is a bit confusing and concerning for mt as an Oilers fan. It's confusing because the return is a player hated by Oilers fans because Manning injured Connor McDavid back when he played for the Philadelphia Flyers. I'm shocked that management thought it was a good idea to bring him into the fold. The trade is then concerning because it's starting to feel like Peter Chiarelli is in panic mode knowing that his job is on the line right now. I'm getting a bit nervous that some more moves may be in the works because all that's happened today id that the Oilers have created an even larger logjam at the bottom of the roster.
I really have no idea where Manning is going to land on the Oilers depth chart. He's probably a 5/6 type defenseman that probably doesn't maintain a fulltime job once everyone starts coming back from the injured reserve. The Oilers are just throwing a bunch of defensemen at the wall and seeing what sticks right now. Right now the Oilers have Darnell Nurse, Kris Russell, Matt Benning, Kevin Gravel, Andrej Sekera, Caleb Jones, Alex Petrovic, and now Brandon Manning all on the roster who would all likely be 5/6/7 defensemen on any competitive team in the league. That means that at least two players from this group will end up slotting in the 3/4 pair for the rest of the season. We needed help on the back end but I'm not sure Brandon Manning is the solution.
Drake Caggiula will be on his way to Chicago, a player who really bounced around the Oilers roster and never quite established an identity for himself among the forward group. He seemed close to being able to fill in a number of different roles but for whatever reason could never quite find his niche. I hope a fresh start in Chicago can turn things around for Drake and help him establish himself as an everyday NHL player.
The other two players involved in the trade and really non-events and not much more than a contract swap between the two clubs. Garrison has shown he's just no longer an NHL caliber player and Norell has already washed out from the AHL and appears to be a bottom end player in the Swedish league.
A bit of an eyebrow raiser this trade and now I'm going to be sitting here nervously waiting for more moves to come.