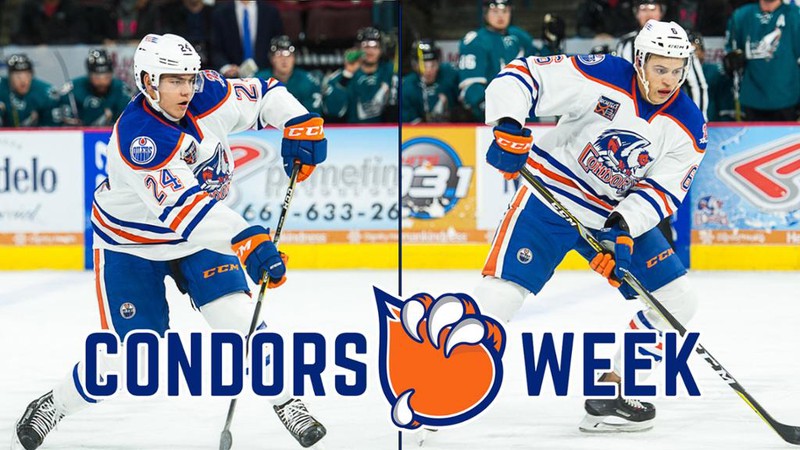 If you've been following my writing at all over the past year, you are probably aware that my beloved Edmonton Oilers were kind of terrible this season. One of the major concerns has always been that our defense is just not good enough. As a result the Oilers have overloaded on defensive prospects and now those guys are all going to be looking for spots on the NHL and AHL rosters next season. The problem? There just isn't going to be enough spots.
In Edmonton, the Oilers will have all 6 of their current defensemen all returning for next season. The only current open spot is the 7th man who gets the honor of watching the season from the pressbox. So without any trades occurring, there is only room for one contract at the NHL level next season. There are several prospects who look like they are ready for the jump to the NHL but just not enough room for all of them. Caleb Jones and Ethan Bear have already both had solid stretches in the NHL. William Lagesson has been rock solid in the AHL. Joel Persson is coming to NA after two impressive seasons in Sweden. And then Evan Bouchard was just named the OHL's most outstanding defenseman (also led the OHL playoff scoing after two rounds). That's a lot of players ready to challenge for NHL jobs. If you say one of them makes the Oilers out of training camp, that means four unhappy players headed to the AHL.
With four of the previously mentioned players heading to the AHL, things start to get crowded in Bakersfield real quick. Dmitri Samorukov will be graduating from the CHL this year and has continued to exceed expectations at every turn, I think him having a spot in Bakersfield is a top priority. We also have Brandon Manning and Keegan Lowe under contract for next season. This already puts us at 7 Dmen in the NHL and 7 in the AHL, both rosters full. Bad part, I haven't even mentioned current AHL standout Logan Day.
Logan Day is likely to get dumped by the Oilers this offseason for nothing. It's a real shame because Day has just closed out an extremely impressive season in the AHL. Day racked up 34 points this season while also posting a very solid +14 over the season. He's touted as a very offensive minded defender who's only real knock is that he doesn't currently have a contract from the Oilers. I think Day easily slots in on the depth chart above Brandon Manning but knowing that he could end up being the 7th man on a stacked Bakersfield defense group, likely won't be very appetizing to Day if contract talks ever begin. If I'm the Oilers, I want Day signed ASAP, but if I'm Day i think he's best suited looking for opportunity elsewhere.
So what's the solution to this mess? Well step one is hiring a new GM, which hopefully will be done this coming week, and then step two is starting to shop my defensemen around. I would try to keep the Klefbom-Larsson pairing in tact but after that, I'm open for business. Darnell Nurse had a great season stat wise but was often a huge liability while on the ice. Russell and Sekera are both way overpaid and the extra capspace could make a huge impact on fixing the forward group. Matt Benning is a pretty good third pairing guy but has shown that he's probably close to his ceiling. All four guys expendable from my point of view, probably don't need to move all of them but trading away one or two would create a nice opportunity for the future of over defense to show us what they can do. I'm also open to trading away a few prospects if the right deal comes along but I'd be very patient on any of those deals. The new GM will want to make a mark on the franchise and I think the defensive group is the first area that needs to be addressed.
This offseason will be very telling for the future of the Oilers franchise. The playoffs aren't an unrealistic goal for next season but you can't mortgage the future just for one season of playoff hockey. Oilers fans had to endure mistake after mistake from the last GM and hopefully the new GM can leave that era in the past.