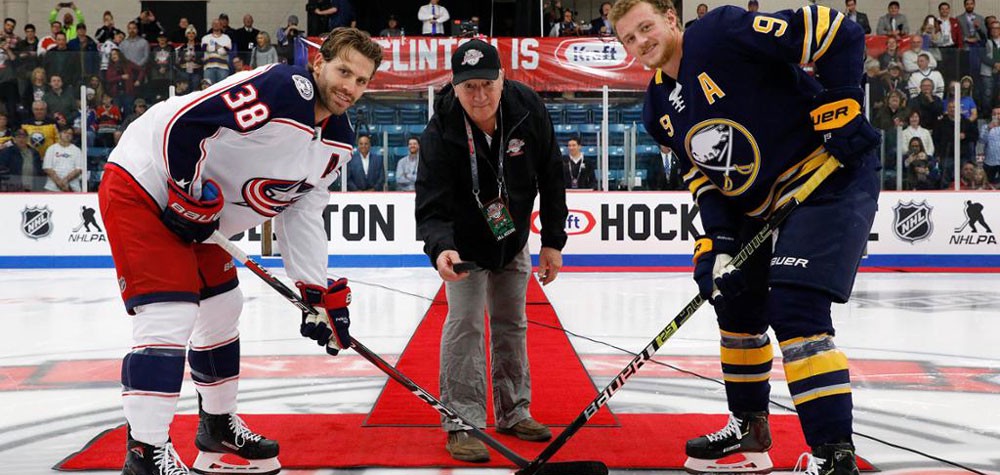 The preseason games both for the Columbus Blue Jackets and Buffalo Sabres started on Tuesday in Clinton, New York at the 4th annual Kraft Hockeyville USA. There met two different teams with so different perspectives, as well as in Lucan, Ontario at the Kraft Hockeyville Canada last week (Toronto Maple Leafs played against Ottawa Senators).
Last season Buffalo Sabres finished at the last place in the NHL. Later they won the NHL Draft lottery and now the city of Buffalo is crazy with the Dahlin Mania. This year's No.1 draft pick Rasmus Dahlin is an elite Swedish defenseman who will help Sabres to perform better than the last season. Buffalo wants to play better, achieve a better result this season and will make efforts for it, for sure.
Columbus Blue Jackets made Playoffs in the 2017-18 NHL season but lost the future Stanley Cup Champion Washington Capitals in the first round in six games (2-4). Blue Jackets is a strong team with great players, they have a potential to break through the first round and go deeper in the Playoffs. But also they have a huge unsolved problem with the key players. Goaltender Sergey Bobrovsky and forward Artemi Panarin are in the last year of their contracts, next year they become the UFA. Both players are very important for the team, but they still didn't re-sign with the Columbus and are not going to negotiate their new contracts during the season. It's a very tough situation for the club and a very difficult problem for GM Jarmo Kekalainen, his club can lose nearly everything next summer.
The game yesterday finished 4-2 win for the Blue Jackets, their leader Artemi Panarin had 3 points (1 goal, 2 assists), his power-play goal is a great one. Sabres star rookie Rasmus Dahlin earned his first point (1 assist), Jack Eichel also had 1 assist. Goalies: Korpisalo - Wedgewood, saves 31 - 22 (of 33 - 26 shots against).
Kraft Hockeyville USA is much younger than the same in Canada, it was just the 4th edition, but at the same time, a special one. Clinton, NY is the winner this year, and hockey in this town celebrates 100 years in 2018. The Clinton hockey community was so excited to win the Hockeyville the same year of the big date. As usual, the Hockeyville is an NHL preseason game and a lot of different events in the town. Community skating at the upgraded rink, street hockey, autograph session of NHL alumni Jody Shelley, Brad May, and Tom Sestito and a lot of other things.
Traditionally, the Stanley Cup visited the Hockeyville, too. In Clinton, the hockey Grail was at the Hamilton college (NCAA III), as well as Jeremy Roenick who met the Hamilton college students as a part of the Hockeyville.
And, of course, players of both teams met their fans before the game.