At the NHL Draft 2018 were selected more than ten young players who continue their families' hockey traditions. Some of their fathers were stars, others were not, but all of them played in the NHL.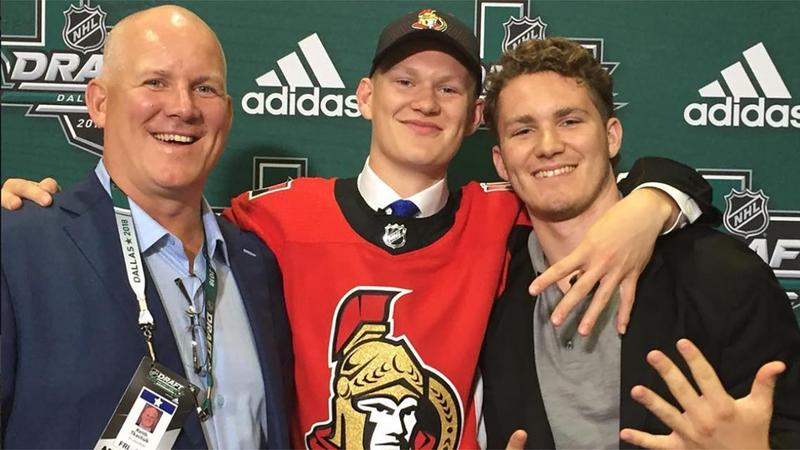 The highest pick (No. 4) had Brady Tkachuk, selected by Ottawa Senators in the first round. His father, Keith Tkachuk, retired in 2010, was one of the greatest U.S.-born players in NHL history. In his 19-year career Keith played for Winnipeg Jets, Phoenix Coyotes, St. Louis Blues and Atlanta Thrashers and scored 1065 points (538 goals + 527 assists). By the way, his oldest son Matthew is a top-6 player of Calgary Flames and we can expect a great play from Brady, too.

Right wing Kody Clark, picked 47th overall by the Washington Capitals, is a son of 1985 NHL Draft No. 1 pick and iconic Maple Leafs player Wendel Clark. Retired in 2000, Wendel played for Toronto for almost 10 years (1985-1994), was a captain and fan's idol. Kody spent last two seasons in Ottawa 67's (OHL) and in 2017-2018 earned 39 points (18+21) in 56 games.

Besides of Kody Clark, the Washington Capitals also selected Riley Sutter, No. 93 overall. His father Ron Sutter was one of the five Sutter brothers, all of them played in the NHL. He was drafted 4th overall in 1982, had a long NHL career (retired the latest of the brothers in 2001) and scored 533 points in 1093 games. Young Riley Sutter is a Everett Silvertips player (WHL), this season he noted 53 points (25+28) in 68 games.

Jack Drury drafted by Carolina Hurricanes No. 42 overall. Both his father Ted Drury and uncle Chris Drury played in the NHL. Ted, retired in 2007, scored 93 points in 414 games with the Calgary Flames, Hartford Whalers, Ottawa Senators, Anaheim Mighty Ducks, New York Islanders and Columbus Blue Jackets. Uncle Chris finished his great career in 2011, he played 892 games for Colorado Avalanche, Calgary Flames, Buffalo Sabres and New York Rangers and scored 615 points. Jack himself played this season as a captain of the Waterloo Black Hawks in USHL and earned 65 points (24+41) in 56 games.

Tyler Madden, son of 3-times Stanley Cup Champion John J. Madden, was drafted No. 68 overall by Vancouver Canucks. His father wasn't drafted by any NHL team, but spent 14 seasons in the League and won three Stanley Cups (two with the New Jersey Devils and one with the Chicago Blackhawks). He scored 348 points in 898 games with the New Jersey Devils, Chicago Blackhawks, Minnesota Wild and Florida Panthers. This season Tyler Madden played for Central Illinois Flying Aces (14, 6+8 in 18 games) and Tri-City Storm (20, 9+11 in 32 games), both of USHL.