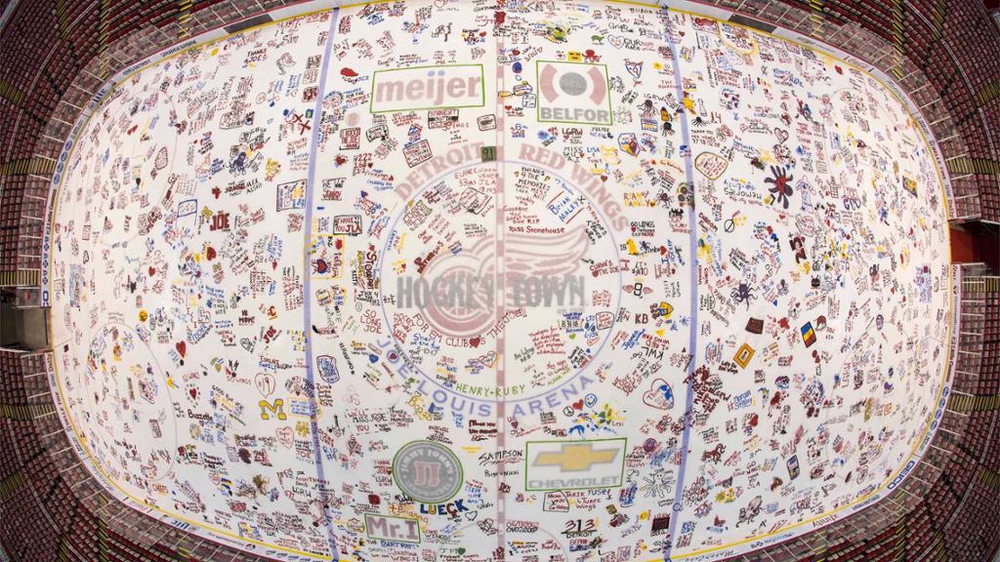 The new NHL season is just around the corner. Very soon players arrive in the camps to start team training, but now it's time for another important preparation. A new ice is making at the NHL arenas.
Hockey doesn't exist without an ice at the rink, it's very important to make a quality surface for the game. Ice at the every NHL arena replaces with a brand new one in summer before the new season starts. This process begins already in June or in spring when the home team finishes the previous season. First of all, an "old" ice should be melted. It's quite popular now in the NHL to let fans paint the ice at the arena before melting it. The result often looks nice and funny.
Then the ice melts. I even heard about this melted ice was for sale in bottles somewhere, but it wasn't an ice from an NHL arena, I think. There are no hockey in summer and arenas hold other events which don't need an ice. Time to bring the frost back to hockey arenas comes in August, in a couple of weeks before the beginning of NHL training camps.
All the parts of the hockey rink (boards, glass, penalty boxes, benches etc.) must be placed before the ice installation. Then the concrete floor is cleaned and the ice installation can start. The first step is to put a very thick layer of the ice onto the floor. Then the white paint will be sprayed on the surface in two applications and sealed with water about five times. The rink is crystal white now, and it's time to make lines, on-ice markings and logos on the ice. Usually, lines and markings are physically painted with a brush and paints, and logos are applicated (it's much easier when you need to put complicated logos).
Montreal Canadiens shows how it looks like. By the way, they made a change in the centre of the ice in Bell Centre.
Most of the NHL teams just applicate their logos in the centre of the ice, but, for example, the Toronto Maple Leafs doesn't go in an easy way this year and paints the logo with brushes. A challenge.
Later, all the paintings and applications cover with some layers of the water, and when the ice thickness is about one inch, the Zamboni comes in. The ice is finally ready at that moment and a training camp can begin.
We can see the whole process how the new ice is made at the Scotiabank Saddledome in Calgary in this timelapse.
And some moments of the ice installation at the training rink of the Columbus Blue Jackets.