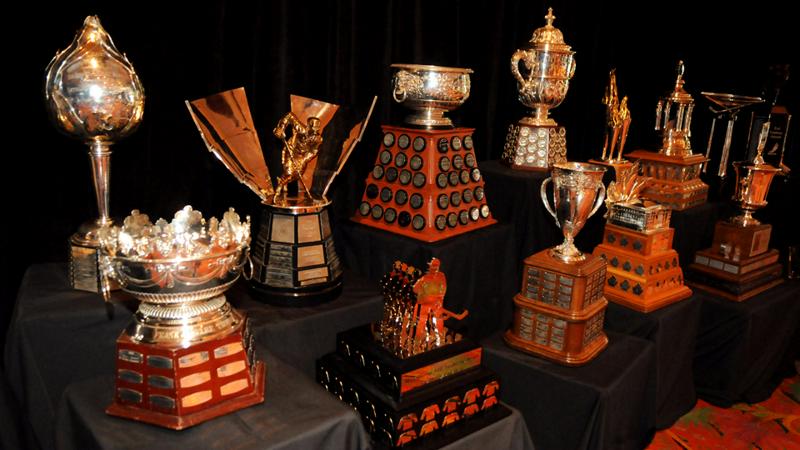 Yesterday we learned all the trophy winners at the NHL Awards Ceremony which took place in Vegas. Also there were announced an NHL19 cover and NHL 2017-2018 season All-Star teams.
Of course, the main hockey hero this year is Alex Ovechkin, captain of Stanley Cup winners Washington Capitals.
At the ceremony NHL also announced two All-Star teams.
And a Rookie All-Star team.
Traditionally, at the NHL Awards Ceremony we learn an new NHL video game cover athlete. On the NHL19 cover we will see P.K. Subban (Nashville Predators).

And we will end this post with all the winners became known yesterday:
The players' most outstanding player is Connor McDavid (Edmonton Oilers), he won the Ted Lindsay Award the second straight time. He led the League in points (108) and won second consecutive Art Ross Trophy.
The League top defenseman is Victor Hedman (Tampa Bay Lightning), it's his first Norris Trophy winning. This season he set personal bests in goals (17), plus-minus (plus-32) and ice time (25:51 per game).
Daniel and Henrik Sedin (Vancouver Canucks) earned the King Clancy Memorial Trophy at the end of their career. Sedin Brothers helped to build a children's hospital, supported the Canucks for Kids Fund, the Canucks Family Education Centre and the SPCA.
The best rookie in the NHL this season is Matthew Barzal (New York Islanders). He won the Calder Trophy after leading all rookies in regular season with 85 points (22+63). Barzal is the fifth Islander's player to win this trophy.
The new winner of the Lady Byng Trophy is William Karlsson (Vegas Golden knights). He scored 43 goals this season and earned 12 penalty minutes, the fewest among the League's top 40 scorers.
Brian Boyle (New Jersey Devils) is the winner for the Bill Masterton Memorial Trophy. During training camp Brian was diagnosed with leukemia, but debuted this season Nov. 1, scored 23 points in 69 games and represented the New Jersey Devils at the 2018 NHL All-Star Game.
The best defensive forward is Anze Kopitar (Los Angeles Kings), it's his second Frank J. Selke Trophy. This season he led League forwards in average per game and total ice time, set a couple of NHL career highs and helped the Kings lead in n defense (2.46 goals against per game) and penalty-killing percentage (85.0%).
Unsurprisingly, Jack Adams Award winner is Gerard Gallant. With his Vegas Golden Knights Gallant advanced to the Stanley Cup Final and made a historic season for the new team in their first NHL year.
Another Golden Knight won the Mark Messier Leadership Award, and it's Deryk Engelland. This season he made his career highs in points (23) and assists (18). Also with his wife Engelland started a program inviting affected by the mass shooting in Vegas people to Golden Knights home games and partnered with Ronald McDonald House and Three Square.
Pekka Rinne finally won the Vezina Trophy, this season he beat a couple of Nashville Predators franchise records (wins, points and shutouts) and helped the team to win their first President's Trophy.
It was expected Vegas Golden Knight's general manager George McPhee won the General Manager of the Year Award. At the 2017 NHL Expansion Draft he helped to build the Golden Knights, team, which set records for wins and points by a first-year NHL team and advanced to the Stanley Cup Final.
The inaugural Willie O'Ree Community Hero Award won by Humboldt Broncos coach Darcy Haugan, who was one of 16 people killed in an accident in Nipawin, Saskatchewan with a team bus going to a playoff game, on April 6. Haugan not focused only on team results, but helped his players become better people. Also he earned Hockey Alberta's Meritorious Award for his contribution to hockey in 2015.
The Most Valuable to his team Player this season is Taylor Hall (New Jersey Devils), who won the Hart Trophy for the first time in his career. This season he scored 93 points (39+54) with a difference of 41 point to the second-highest scorer on the Devils and helped his team the Stanley Cup Playoffs for the first time since 2012.