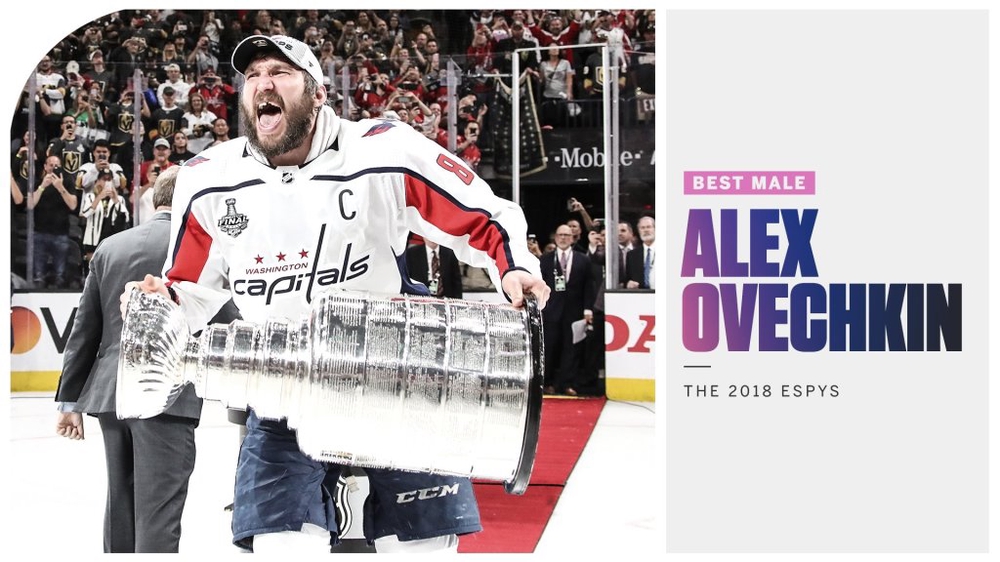 The winners of the 2018 Excellence in Sports Performance Yearly Award (ESPY Award) were announced yesterday, Washington Capitals captain Alex Ovechkin became the first hockey player to be named the best male athlete of the year, and the second after German basketball player Dirk Nowitzki from outside the U.S.
The ESPY Award is an annual sports analogue for the awards like Oscar, Grammy, Emmy etc., it's held in the same style, but atmosphere is more relaxed. The inaugural ceremony was held in 1993 at Madison Square Garden in New York, the winners were chosen via voting by fans. The order of voting was changed in 2004, since that year the ESPY Select Nominating Committee selects the nominees for each category and then fans vote for the winner online.
This year the ceremony took place at Microsoft Theater in Los Angeles, as in ten previous years. The winners were selected in 34 categories and also 4 honorary awards were awarded. Alexander Ovechkin was named the Best Male Athlete, he received more votes than the other nominees: Jose Altuve from Houston Astros (MLB), James Harden from Houston Rockets (NBA) and timeless Tom Brady from New England Patriots (NFL).

Along with the Best Male Athlete award Ovi won the title of the Best NHL Player, also Sidney Crosby from Pittsburgh Penguins, Marc-Andre Fleury from Las Vegas Golden Knights and Connor McDavid from Edmonton Oilers were nominated for this award.
The Washington Capitals was a nominee for the Best Team along with USA Women's Ice Hockey team, but the awad went to the MLB Champions Houston Astros.
By the link you can check the full list of ESPYs 2018 nominees and winners.