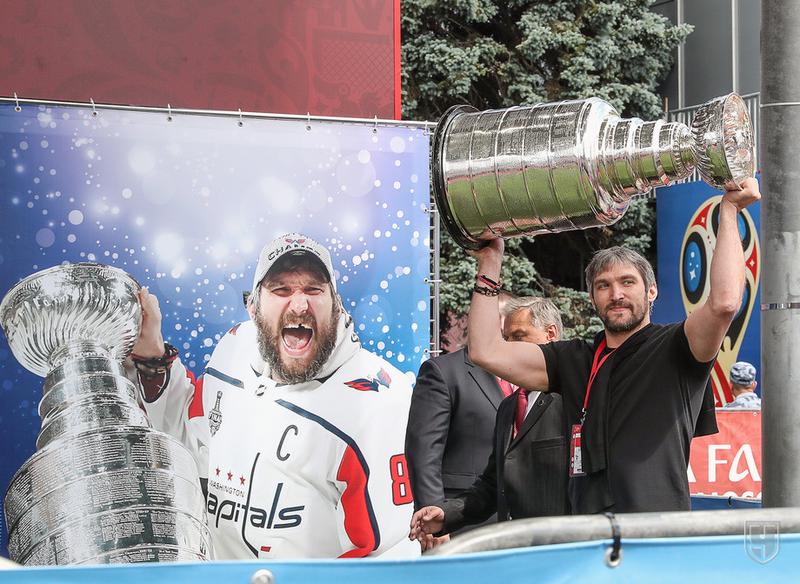 This weekend Alexander Ovechkin spent his two days with the Cup in Moscow, Russia. And it was really crazy time.
Ovi started with showing the Stanley Cup to the fans at the FIFA World Cup Fan Fest in Moscow on Saturday. About 10,000 fans came to see Alexander the Great and his trophy, and Alex made about 5,000 photos with them (a real fan conveyer, oh).
Then he visited Dynamo Moscow ice hockey school in Novogorsk, also there his father met the Stanley Cup for the first time.

The next day Ovi started with the unannounced visit to the Red Square with the Cup, of course. Tourists were surprised and shocked of his appearance, they greeted him. After a couple of minutes Ovechkin headed back to the police car waiting him.

Then Ovi visited the flat where he grew up and "slept" a couple of minutes with the Stanley Cup in a bed in his childhood bedroom.

Two days with the Cup were finished with a private party at the restaurant. At the gathering were his family, friends and Evgeny Kuznetsov and Dmitry Orlov, another Russian players of the Washington Capitals.

The Stanley Cup was filled with the black caviar, for the first time.

And the cake was gorgeous.

Now the Stanley Cup is heading to Czech Republic. Michal Kempny will be the next to have his day with the Cup on Tuesday.

But anyway I think there haven't been another NHL player who loved the Stanley Cup as much as Alex Ovechkin.