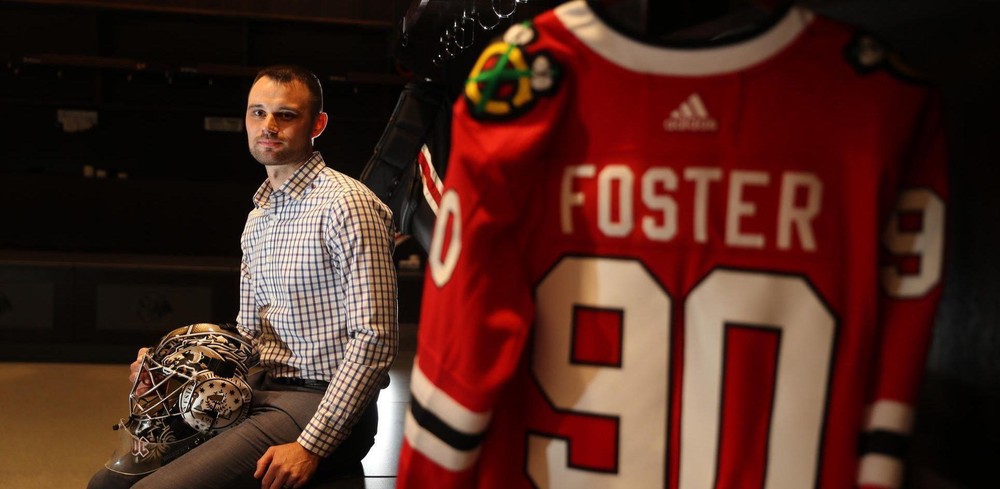 Do you remember Scott Foster? The Chicago Blackhawks emergency goalie became a legend and got a lot of attention last season when he came in for Blackhawks in the home game against Winnipeg Jets. Foster is an accountant at Golub Capital, but also he plays as a goaltender in a beer league.
On March 29, 2018, he was called to step on the ice for the Blackhawks it the third period of the game against the Winnipeg Jets after the 3rd Chicago goalie, this evening's starter Colin Delia was injured. Foster played his last professional game in college back in 2006, but during 14.5 minutes of the NHL hockey he made 7 saves, didn't allowed any goal and finished the game with 1.000 saves percentage.
Emergency goalies enter a game in the NHL not very often, and usually they have more serious pro hockey background than Foster has. So that 14.5 minutes on the NHL ice after a usual day in the Golub Capital office made Scott Foster famous all around the NHL and world's hockey community.
On Thursday he joined the Chicago Blackhawks on the ice again, but not because of injuries of the main goalies. The organization invited Foster to participate in optional morning skates before the Blackhawks home games this season to have at least two goalies on the ice.
The legend continues, and it's a pretty nice way to continue for Foster. He made from beer league to the NHL, and I'm sure he's excited to be, let's say, an active member of the Blackhawks. As Joel Quenneville said, "it beats the beer league."