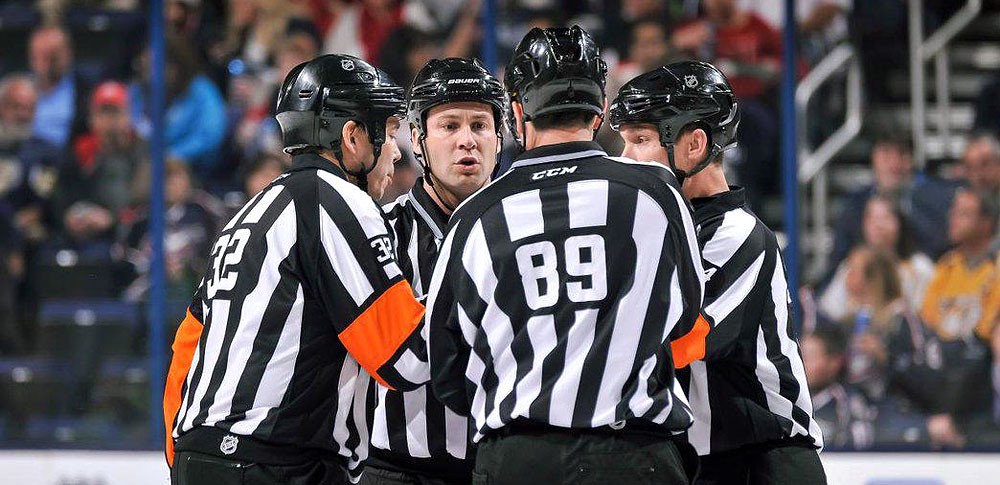 Last years the NHL develops internationally a lot. Right now two teams have their training camp in China during the China Games, the preseason opener between Calgary Flames and Boston Bruins also was played in China on Saturday. The China Games will be followed by the European preseason games in Switzerland and Germany and the regular season opener in Sweden between the Edmonton Oilers and the New Jersey Devils.
Everybody heard about these events, everybody knows where is from Rasmus Dahlin, the No.1 overall on the NHL Draft this year, but who cares about officials? However, recently the notable signing took place. Czech Republic native linesman Libor Suchanek became the first non-North American full-time official in the NHL history.
First, let's take a look through the history. There were just a few European-born officials in the NHL for years. Most of the NHL officials are Canadians, some are from the USA and just six were born outside of North America. Malcolm Ashford, Jerry Pateman and Hall-of-Famer Frank Udvari all were born in Europe, but were trained and began their officiating careers already in North America. Swedish Marcus Vinnerborg and Russian Evgeny Romasko are European-trained referees, but they had minor leagues linesman contracts, it means they officiated bot in the NHL and AHL, approximately 40 games in each league.
Czech linesman Libor Suchanek signed the same contract a year ago, officiated last season both in the AHL and the NHL and this summer got an offer of the full-time NHL contract. So now Suchanek is the first-ever NHL full-time official, trained in Europe. At home in the Czech Republic he would work as a mechanical engineer and officiate in Europe, Suchanek even never dreamed about the NHL. But he made the journey from the Czech Extraliga (the top hockey championship in the Czech Republic) to the full-time NHL official in about a year.
"The NHL has never been my dream, because I never knew I could get [to officiate in] it at all, I would say that it is a small miracle for a Czech [official]" - said Suchanek.
For the first time, the NHL officiating crew paid attention to Suchanek when he worked a game in Prague before the 2016 World Cup with the NHL officials Gord Dwyer and Michel Cormier. Then in February Suchanek was invited to Toronto for 3 AHL games and in offseason, he was offered a minor leagues linesman contract. In 2018-19 NHL season Suchanek is one of the 34 NHL's full-time linesmen. In total, the NHL Officials Association consists of 34 full-time referees, 34 full-time linesmen, 10 minor league referees and 4 minor league linesmen.