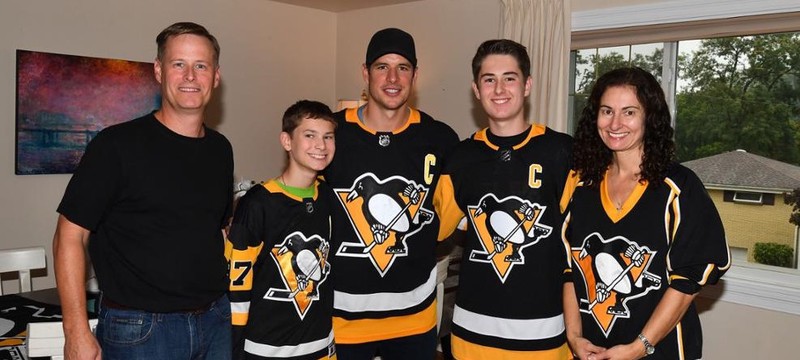 Before every season starts, many NHL teams arrange a season ticket delivery day, and some players on the team deliver the ticket packs to season ticket holders. It's a pretty nice tradition, I think, and this day becomes a very special one for those families, who see the stars of the favourite team in front of the door.
Yesterday, Sidney Crosby, Jake Guentzel, Matt Murray, Jimmy Hayes, Kris Letang, Jack Johnson, Mike Sullivan and Jamie Oleksiak of the Pittsburgh Penguins were busy with the season tickets delivery to the Pens' fans. This campaign has a very long history in Pittsburgh, more than ten years ago Evgeni Malkin was already delivering season tickets. And this year the other Penguins star Sidney Crosby made happy another Sidney and her family.
Crosby played street hockey with the younger Sidney and her cousins and even wrote a letter for their school excusing children from missing lessons. The best letter ever!
Then Crosby headed to the other season ticket holders, including a family of a Pittsburgh firefighter.
Other players also had a lot of places to visit. Jake Guentzel, Matt Murray, Brian Dumoulin and others.
Young fans are extremely happy to interact with the players, and even adults feel themselves as kids. A very nice idea of such tickets delivery day, I like it for sure.