I wrote this back in 2005, reviewing what would come to be an iconic game that showcased the skills of the top talents in NHL from that day forward and into present time. Can barely believe it knowing what we do now.
Hope you enjoy this blast from the past.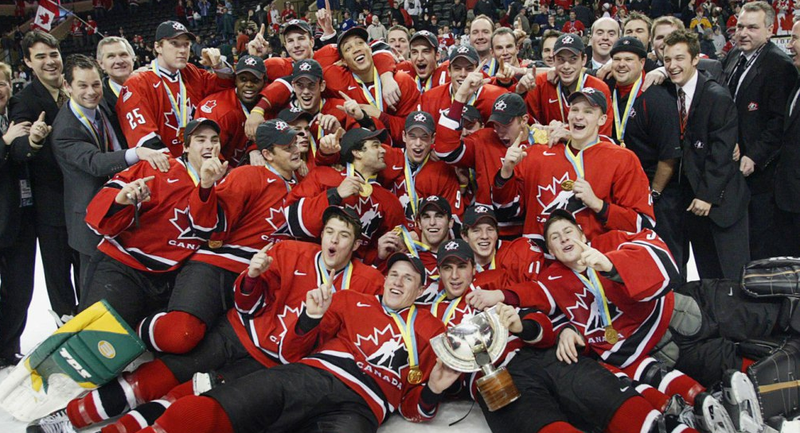 Canada vs. Russia: 2005
Its almost two weeks since the big game yet all that I can think of looking back at Canada's three periods of uninterrupted glory is Crosby's stolen (and recovered) jersey and Sutter's family's unnecessary bouts of luck.
Next year's roster will have a tough time filling the mammoth shoes of this year's team. "Best team ever" its been labeled, and rightfully so. The title could not be more deserved. Canada dominated the games as no other team has and emerged triumphant. For the first time in eight years Canada has reasserted its name as The First Nation of Hockey. To have this victory come amidst a year plagued by boardroom politics (and lack of NHL hockey) is a tremendous, although not surprising, conquest. To say the least, it is a boost of morale for this great country – a country known for its maple syrup, beavers, and hockey.
To slip back to that fateful night, when in Grand Forks, North Dakota, a sea of red and white crashed on the banks of the Ralph Engelstad Arena on a cold Tuesday night. Sold out game, Canada fans hungry for a win after a prolonged drought.
Canada's defense and forwards have dominated the game in the last six games, allowing very few shots on goal. Jeff Glass defended the net admirably (although not often thanks to impregnable defense) putting and end to the pucks that made it through the lines and allowing only a few strays to slip by. Offensive-wise, Canada has outscored its opposition 41-7 throughout this tournament.
Early in the first period one thing became apparent: Ovechkin was getting gang raped without the benefit of a reach-around. By taking Russia's most dangerous player out of the game, breaking his confidence and stripping him of opportunity to play his game, Canada professed its claim to victory. Morale is half the battle.
The initial keys to Canada's triumph were to consist of a) physical dominance over the two Russian stars (Ovechkin and Malkin) and b) staying out of the penalty box early on in the game. They succeeded immensely at the first but failed miserably at the second, handing Russia a two-man advantage only a few minutes into the game.
All in all, we've got the NHL lockout to attribute at least a part of the victory to. It freed-up valuable talent (most-notably, Carter), allowing for a well-rounded and all-around superior team than in the past years. A large number of the players are returning, aware of the game and of the stakes.
Throughout this tournament Crosby has been hailed as "The Next 'Great One'". The statement is not new and until the cards are face-up on the table this writer won't take the bluff.
Position - Name - Hails From
Team Canada:
3 - D - Dion Phaneuf - Red Deer Rebels
4 - D - Shawn Belle - Tri-City Americans
6 - D - Shea Weber - Kelowna Rockets
7 - F - Jeff Carter - Sault Ste. Marie Greyhounds
9 - F - Sidney Crosby - Rimouski Oceanic
11 - F - Colin Fraser - Red Deer Rebels
12 - F - Anthony Stewart - Kingston Frontenacs
14 - F - Stephen Dixon - Cape Breton Screaming Eagles
15 - F - Ryan Getzlaf - Calgary Hitmen
17 - F - Clarke MacArthur - Medicine Hat Tigers
18 - F © - Mike Richards - Kitchener Rangers
19 - F - Andrew Ladd - Calgary Hitmen
20 - D - Danny Syvret - London Knights
21 - F - Jeremy Colliton - Prince Albert Raiders
24 - F - Corey Perry - London Knights
25 - D - Cameron Barker - Medicine Hat Tigers
27 - F - Nigel Dawes - Kootenay Ice
29 - D - Braydon Coburn - Portland Winter Hawks
33 - G - Jeff Glass - Kootenay Ice
34 - D - Kyle Quincey - Mississauga IceDogs
35 - G - Rejean Beauchemin - Prince Albert Raiders
37 - F - Patrice Bergeron - Providence Bruins
Head Coach - Brent Sutter
Team Russia:
1 - G - Andrei Kuznetsov - Salvat Yulaev Ufa
3 - D - Anton - Belov - CSKA Moscow
5 - D - Grigori Panin - Lada Togliatti
6 - D - Dimitri Vorobiev - Lada Togliatti
7 - D - Yakov Rylov - Dynamo Moscow
8 - F - Alexander Ovechkin - Dynamo Moscow
11 - F - Alexander Galimov - Lakomotiv Yaroslavl
12 - F - Dmitri Pestunov - Metallurg Magnitogorsk
14 - D - Dmitri Megalisnski - Lakomotiv Yaroslavl
15 - D - Georgi Misharin - Neftekhimik Nizhnekamsk
17 - F - Evgeni Malkin - Metallurg Magnitogorsk
19 - F - Grigori Shafigulin - Lakomotiv Yaroslavl
20 - D - Alexei Emelin - Lada Togliatti
21 - F - Alexander Nikulin - CSKA Moscow
22 - F - Alexander Raduolov - Quebec Remperts
23 - F - Mikhail Yunkov - Soviet Wings
24 - F - Denis Ezhov - CSKA Moscow
25 - F - Roman Voloshenko - Soviet Wings
26 - F - Enver Lisin - AK Bars Kazan
27 - F - Denis Parshin - CSKA Moscow
29 - F - Sergei Shirokov - CSKA Moscow
30 - G - Anton Khudobin - Metallurg Magnitogorsk
Head Coach - Valery Bragin
1st Period
Excellent pressure by the Canadians in the opening seconds and a superb low shot that pays off big-time almost immediately. Getzlaf starts Canada's goal scoring rolling barely a minute into the game (0:51). The opening serves to set the mood of the game as at the 2:11 minute mark Perry starts warming up the penalty box bench (interference). He is joined there by Webber only a few seconds later (tripping), providing Russia with a two-man advantage for over a minute.
Although Canada's ego is scathed, no harm is done. They kill the two-man kick in the nuts, the initial obstacle. They have to for that gold.
Parshin slashes Dixon affording Canada its first power play and a breather of an advantage. A few excellent shots follow, bravado restored. Carter definitely feels the weight of Canada's immanent success on his shoulders, craving that coveted 12th goal. But it is Syvret who steps up to the plate and hits his first in; a beautiful rebound goal on the 8 minute mark.
Russia is definitely feeling the pressure, the frustration. With Ovechkin getting tossed around the rink as if in a pinball game, the team's confidence is wilting by the minute. Canada is everywhere.
Russia gets its third chance at utilizing a power play advantage as Ladd enters the penalty box a little past the period's midpoint. They fail to capitalize.
With only 2:12 to go in the period, Russia regains the advantage once more, Coburn in the box now (hooking). This time they make it work, Emelin putting them on the board (19:28) with a clumsy puck off the heel of Dixon's stick.
2nd Period
The second frame heads off with a four on four start, Carter and Malkin both in their respective boxes. Richards starts off on the right foot and although no immediate rewards are reaped he achieves his goal; the Russians feel the change in weight, none more so than Emelin who sputters blood onto the ice after a hard hit.
At 3:33 Carter gets his 12th goal, a wrist shot, tying the Canadian record in only two tries and forcing Russia to rethink their goaltending prospects. Trailing, they switch Khudobin for Kuznetsov. Little did they know that it would make no difference.
Russia's luck changes for the better as Canada takes a foolish penalty (too many men on the ice) 4:35 minutes in. They fail to take advantage with a penalty against Shafigulin for delivering a blow to the head to Fraser (charging). The game sets back to four on four.
The Russians suffer a major setback in this period with the loss of their number one star player, Ovechkin, who retreats into the dressing room an injured man and emerges for a brief turn well after the midpoint of the period. Hammered throughout the game, he is ill-suited for a physical game he attempted against the Canadians, his skills based on finesse.
At 7:53 Canada widens the gap once again, gaining a 4-1 lead thanks to Bergeron after a beautiful pressure, attempt, then goal. Barely a minute later, 8:54 minutes in, Stewart (takes advantage of a turnover) and scores.
Canada gets a break with a power play at the 6:52 mark and Phaneuf puts it to good use, scoring right off the bat. He seals Canada's victory with the sixth goal of the day and a 6-1 lead.
Vorobiev with a cheap shot a little past halfway into the game and Dawes receives a crosscheck to the face and a slash to the midsection. He takes it like a man, his game unperturbed. With a 5 minute penalty (game misconduct), Canada is dealt another power play opportunity.
At 19:20 the tides change once more with MacArthur in the penalty box after a cross-check (charging). The advantage is too little too late for Russia and they fail to capitalize yet again.
3rd Period
Canada starts off the third period one man down and milking the clock. With a five goal lead the players can almost taste that gold.
Among the observing crowd the air of victory sets in as well. Plays become lost in the inevitable. Russia will walk away with the silver and although they can still wave it in the faces of the hated Americans, Canada will get the gold. Miracles only happen in fairy tales and one does not need a magic mirror to foresee the outcome of this game.
As Russia got to start the period off on the power play, its wondering its "just maybe"s. But its offense is futile to a point where its barely existent. The Canadians hold their win. This leads to a largely uneventful and scoreless period.
Ovechkin is officially out of the game with no hope of returning. Although he has so far proved ineffective, it is still a morale-killer.
Canada cuts the midpoint by attempting to hammer in the puck for a 7th goal. Carter needs that extra goal to surpass Eric Lindross at 12 (he ties).
Malkin takes a few good hits courtesy of Weber, but he hangs in there, providing Russia with one of their initial two hopes. Ovechkin may have folded early but Malkin is sticking it out to the bitter end.
With a quarter of a period left, Russia takes the power play once more – a last chance. They fail to make it work for them.
The buzzer sounds, proclaiming Canada's victory. Sutter replaces his trademarked frown with a shit-eating grin. Ovechkin shakes hands with his right arm in a sling.
Writer's MVP of the Game Picks
MVP Russia: Malkin. Ovechkin tossed in his gloves, leaving Malkin to pick up the slack. The second star, he quickly became Russia's only hope (not to say that the other players weren't formidable as well) and although his efforts bore no fruit he stuck it out. He stood solid and played hard throughout, unwavering.
MVP Canada: Richards. Mike provided Canada with a solid core throughout the game (and tournament), played consistently and selflessly, forgoing flashy shots on goal for skillful moves to ensure his team's victory. A superb penalty killer, he lead the team by example, uniting the players in a way only the captain can and putting up an iron curtain.
Goals
Russia: 1 – Emelin
Canada: 6 – Syvret, Carter, Bergeron, Stewart, Phaneuf
Cheers.