Carey Price has a really tough start to his 2018-2019 season. Not so long ago, Price was allowing 4 or 5 goals in almost every game that he was playing. He even said that he was having some mental issues and the Canadiens gave him a break during an entire week at the beginning of November. We are now in December and when we take a look at his numbers, we can see that things have turned for the better. Price has not allowed more than 3 goals in a game since November 21st against the New Jersey Devils when he allowed 5 goals. The return in form for Price also coincides with the return of Shea Weber, the captain of the Montreal Canadiens. Weber played his first game of the season on November 27 against the Carolina Hurricanes and the stats of Price are really good since Weber is back.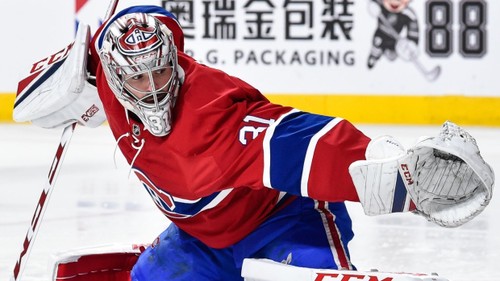 The defense of the Canadiens was out of breath during the month of November and it's certainly played a big factor in the performances of Carey Price. The return of Weber has really stabilized the defense and gave this group a much needed big fresh air of breath. Price has also been employed in more consecutive games recently. In fact, Carey Price has now played in seven consecutive games after his start last night against the Chicago Blackhawks. The Canadiens will not be playing back-to-back games until next week against the Colorado Avalanche and the Arizona Coyotes. It's not impossible to think that Price will obtain every start until the game next week in Arizona. Playing many consecutive games now allows him to built momentum and take more confidence in him. This is really important for an NHL goaltender. When things are going well, you want to play every games and when things are going bad, you sometimes need a break just like it was the case for Price in early November.

The big question now is to see if Price can continue on his good streak until the end of the season and help his team qualified for the playoffs. It sure won't be easy for Price but we know that he has the talent to do so. After all, he didn't win the Vezina and the Hart in 2015 for nothing. I don't think Price will get back to his form of 2015 this year, but if he continues to play just like he is doing right now, the Habs should be fine. Sure, the expectations will always be very high for Carey Price. He his the most paid goalie in the NHL and will be the most paid player on the Canadiens roster probably for the next 10 years. He needs to be excellent for this team every single night and when he is not, he is criticized and things are bad.

However, we feel that something has changed for Price recently and it's a good news for everyone. It just needs to stay that way now!