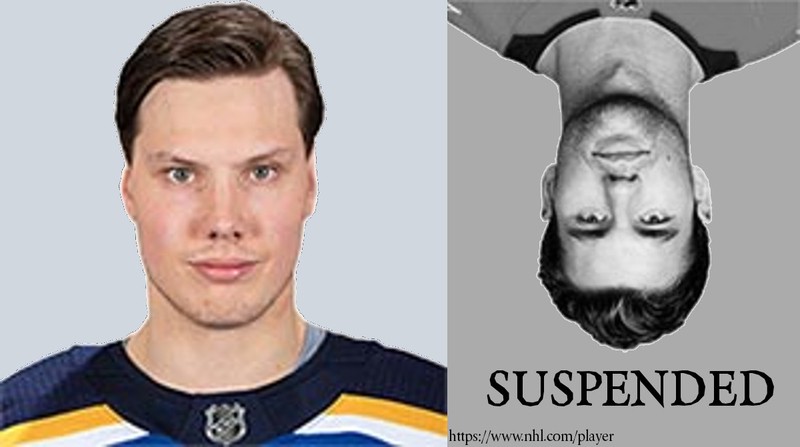 By Lannie Brockstein
October 5th, 2018
THE N.H.L. HAS RIGHTFULLY SO DISCIPLINED THE EVIL TOM WILSON of the Washington Capitals for his having once again horribly injured one of his fellow players, in having suspended him and without pay for the first 20 games of its 82 game season.
If Wilson loses his appeal then he will be fined $1,260,162. That is $160,162 more than the entirety of his $1,100,000 salary this season; however, he received a signing bonus of $5,000,000 before the season began.
That suspension and its accompanying fine occurred as a result of the shameful incident which happened on September 30th at the Washington Capitals' arena and during the last game of his team's preseason schedule against the St. Louis Blues.
In his idiocy, Wilson, that moral weakling and repeat offender, apparently thought it was wise for him to have targeted the head of the Blues' Oskar Sundqvist when having body checked him, which, unsurprisingly to the rest of us whom are well aware that what happens in video games is not the same as what happens in real life, caused Sundqvist to suffer a serious head concussion that will likely deny the Swede from being able to play hockey for the next several months, if not longer.
The N.H.L. has been clear in its commitment to clean all dirty hits from the game, and irregardless of whether those hits be accidental or intentional. There is no doubt, though, as to whether or not Wilson's hit to the head on Sundqvist was intentional, as that lunkhead has a well-documented history of having committed atrocious acts of violence on the ice against several other players.
As a result of his having attacked Sundqvist without provocation, and in not the slightest degree as an act of self-defence, the unrepentant Wilson has earned himself a place in hockey hell alongside other psychopaths such as now retired players Matt Cooke and Raffi Torres, each of whom also have absolutely no real concept of what good sportsmanship actually is.
The symptoms of a head concussion are generally severe and they can include hours of painfully debilitating migraine from any flash of bright light or burst of loud noise. Other symptoms might include a lack of balance, a lack of short-term memory, emotional difficulties such as suicidal depression and having a much more easily triggered temper than before, as well as an inability to think straight. It is by far one of the most difficult and destructive sports injuries that an athlete could suffer because it not only prevents them from playing the game that they love and hence live for, it also prevents them from living their day-to-day life.
As such, a head concussion can require years to fully heal from. It can take its toll on a marriage and make it difficult for an N.H.L. player to be a good father, because an injury like that can change a person's personality very much for the worse, as unfortunately can an unexpected death of a family member or close friend.
For the next several months, Sundqvist will probably need to spend the vast majority of his time in a dark and silent environment. He might not be able to listen to certain kinds of music, watch certain t.v. shows, or use his phone if the person on the other end is the kind that talks too loud. He might not be able to concentrate for long enough to read books and magazines, or to use the Internet, or to play video games. His using the lights in his house could be out of the question, and the blinds of his windows might always have to be closed. He might have difficulty in getting up fast from a chair or sofa, or going up and down stairs. He might not be able to drive his car.
He might not be able to withstand the harsh thud of a car door or any door that has been loudly closed, or the loud click of any door latch being too quickly locked or unlocked, let alone the noise from a passing motorcycle or from police sirens, or the noise from a toilet seat being slammed by some boor in the hotel room or condo next to his. He might not be able to bear hearing the loud and obnoxious noise in any hockey arena without suffering a painful migraine for hours on end. The sound of his condo's buzzer might need to be changed to something softer. If he has a dog that has a blasting bark, he might not even be able to play with his dog until it has been trained to no longer bark.
As a result of his having suffered an entirely preventable head concussion injury through no fault of his own, Sundqvist might not be able to do so many of the things that most people whom have never suffered a head concussion usually take for granted. Having a head concussion is not like having a broken arm or a broken leg; it is a much more serious matter. It is a life changing injury.
That sadistic assault by Wilson against Sundqvist, whom is one of the more gentlemanly players in the league, was not the first time when Wilson that envious louse had shown little to no respect for the well-being and livelihood of his peers. Wilson's history on the N.H.L. battlefield includes a long list of war crimes, including when he infamously attempted to cause deliberate injury to Jonathan Marchessault of the Las Vegas Golden Knights during Game 1 of the 2018 Stanley Cup Finals, which was only 16 games ago for Wilson, and which I recently mentioned in my "Patriotic Dissent: When you Want to Cheer for your Sports Teams But Can't" article at Scorum not more than a month ago.
What I didn't mention, is that Marchessault is one of the league's star players, as he was 29th in scoring during the 2018 regular season from having registered 75 points in 77 games. In comparison, Wilson was 206th in scoring during the 2018 regular season from having registered 35 points in 78 games. On the scoresheet, there is no comparison between the two.
I turned the channel from N.H.L. games during the first decade of the 21st century and before it started to crack down on head concussion injuries only after numerous N.F.L. players started to file lawsuits against their league, and when it was open season on premier N.H.L. players like Marc Savard, Erik Karlsson, Sidney Crosby, and Connor McDavid. I just couldn't stand to watch it no more.
As a hockey fan, and now that the Toronto Maple Leafs have signed Auston Matthews—I don't want to go through that again—only, once again, in having watched the sports shows that included footage and not nearly enough condemnation from its corporate commentators and analysts of what went on in the aforementioned St. Louis Blues/Washington Capitals game, I did. Oskar Sundqvist of the Blues is not a superstar, let alone a star. But he is a human being and like any of us, he has his life to live.
How I did lose faith in Toronto Maple Leafs' new general manager Kyle Dubas when he stupidly traded Matt Martin to the New York Islanders, and without receiving another ruffian in return, and without trading for another, and especially when Martin is one of the league's ruffians whom only fights in self-defence.
There is currently nobody on the Maple Leafs' roster who will prevent Wilson or any other rabid dog of a hockey player from taking a run at Matthews, John Tavares, Mitch Marner, or any of their teammates. Why not? The very first trade that the Maple Leafs' former G.M. Lou Lamoriello and future Hall of Famer made as the new G.M. of the New York Islanders was for Martin—in order to protect his new team's players.
If you enjoyed reading this article then you'll probably also like its second, third, and fourth parts, which I hope to post at Scorum later this week and the next.
How short-sighted Maple Leafs' president Brendan Shanahan was in his having let Lamoriello go to hire another person—and especially an inexperienced stats nerd in Kyle Dubas—to be the team's G.M. Any president worth their salt damn well knows that the only time you hire another general manager after having parted ways with a roster-architect of Lamoriello's stature and proven ability as a former three-time Stanley Cup winner, is when he has not only died but is also buried—and more than three days have passed just to make sure that seemingly immortal is actually dead.