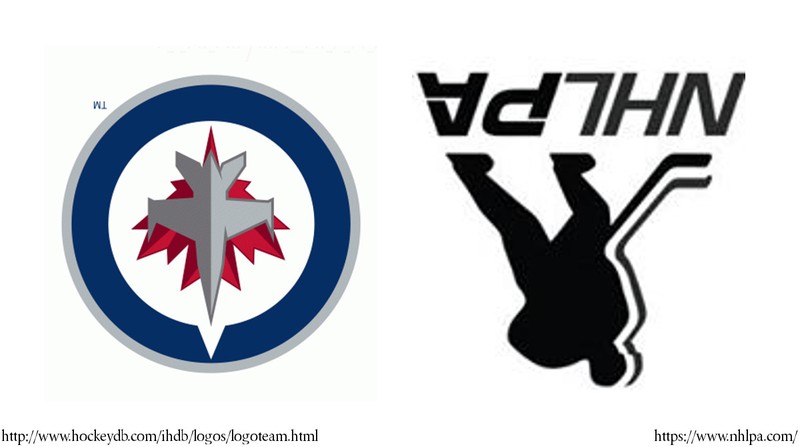 By Lannie Brockstein

November 6th, 2018
AS HAS BEEN ESTABLISHED IN MY THREE PREVIOUS POSTS (P1, P2, P3), TOM WILSON THE ON-ICE TERRORIST TARGETED OSKAR SUNDQVIST BECAUSE THAT PSYCHOPATH was psychologically projecting his own evil and twisted character upon Sundqvist. That was why Wilson perceived him as a threat to Ovechkin, when in reality he wasn't—Wilson mistakenly perceived Sundqvist as being the piece of shit that he himself is.
In his narcissism, Wilson did not see in the gentlemanly Sundqvist what Wilson himself could be like, if only he too did choose, like Sundqvist did, to play the great game of hockey the way that it is meant to be played—which is to say not only with toughness, but also with good sportsmanship.
There are many hockey fans who blindly follow in the foolhardy footsteps of the corporate sports reporters, analysts, and play-by-play commentators that do nothing but enable the abusive behaviour of mental cases such as Tom Wilson—that cretin who doesn't limit his fighting to being only in self-defence—but whom instead has taken to intentionally headhunting the players on opposing teams, thereby causing them to suffer potentially career-ending and life-changing injuries.

If fighting is a part of hockey then it begs the question, Why is fighting penalized? Is all on-ice fighting only ever bad, or is it sometimes justified?

It is only commonsense that any play which has resulted in the horrific injury of another player was not a hockey play, and that if any such play is "legal" under the N.H.L.'s brand of hockey, then that means the N.H.L.'s brand of hockey is corrupt, and therefore that its laws ought not to be obeyed. The N.H.L.'s brand of hockey is not the end-all and be-all of hockey; it is actually much smaller than the great game of hockey itself.
Perhaps those who make one excuse after another for Wilson do so because they have a serious man-crush on him. Perhaps that is why his enablers are typically known to hide behind the fallacious argument that "fighting is a part of hockey", despite their disingenuously ignoring the obvious fact that if so, then good sportsmanship is a part of hockey, too—and that good sportsmanship is a damn well more important part of hockey than fighting is, or ever could be, for without good sportsmanship being present there cannot be any hockey. What are the Oilers without McDavid? What are the Maple Leafs without Matthews? What is the N.H.L. without its superstars? Not much, that's what.

I don't know about any of you, but the last time that I checked, there is no such thing as an N.H.L. trophy for fighting. However, there is such a thing as the Lady Byng Memorial Trophy for good sportsmanship, and what a truly great trophy it is.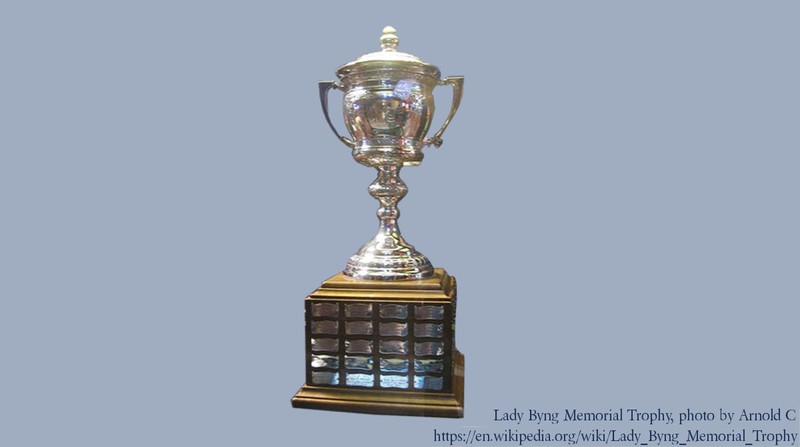 The Lady Byng is an ancient and illustrious award that stems all the way from 1925, and is what superstar Wayne Gretzky himself did proudly win no less than five times during his legendary career (once with the Edmonton Oilers, thrice with the Los Angeles Kings, and once again with the New York Rangers). It is something which every N.H.L. player who genuinely cares about themselves, their fellow players, as well as the great game of hockey itself, doth striveth to win.
Any N.H.L. fighter is eligible to win the Lady Byng, provided that they only fight in self-defence—like the way that Mr. Miyagi taught Daniel-san to do, and like the way that Obi-Wan Kenobi and Yoda taught Luke Skywalker to do.
The N.H.L.'s culture is still in the process of evolving to fully express the noble and gentlemanly state of consciousness which the Lady Bing Memorial Trophy represents, whereby its referees no longer penalize those who fight in self-defence, and only penalize those dirty players, like Wilson, who take cheap shots by means of their blindsiding other players because they are psychotic and their badly managed and badly coached team is not deep enough to win on talent alone. But surely that day will come, for there is a difference between right and wrong, and nobody should ever be penalized for acting in self-defence.

A no-good dirty cheap shot was unfortunately what recently happened in a game on October 27th between the less talented Winnipeg Jets and the much more talented Toronto Maple Leafs, when the evil Jacob Trouba of the Jets intentionally injured Auston Matthews, whom is one of the league's bona fide superstars, and who was leading the N.H.L. in points until the day he was intentionally injured by Trouba that piece of shit.
In my very first post at Scorum, I mentioned how much of a dumbass the Toronto Maple Leafs' new G.M. Kyle Dubas was for his having traded Matt Martin (whom had served as the team's bodyguard, and without his having resorted to taking cheap shots at the other team's star players) to the New York Islanders, without Dubas having re-staffed the team's roster with any other player that can protect Matthews, John Tavares, or Mitch Marner from the likes of Tom Wilson, or any other bloodthirsty goon that is selfishly trying to "motivate" their team by means of their having intentionally injured yet another player. Now the Maple Leafs are without their superstar centre for the next four weeks, at the very least. Whom is there to protect Tavares? Nobody, that's who. Thus, the Maple Leafs of 2018 are now little better than the New York Islanders of 2017.
As can be seen in the following videos (and exactly like the evil Tom Wilson has himself repeatedly done), the evil Jacob Trouba of the Winnipeg Jets also has a history of intentionally injuring players on other teams; a history which Jets' coach Paul Maurice was no doubt well aware of, especially as he is largely responsible for his team leading the N.H.L. in PIM (penalties in minutes) in part because it has so many goons—another of which is Brendan Lemieux who was suspended for two games by the N.H.L. for his having dangerously hit the head of Vincent Trochek of the Florida Panthers, on November 2nd when the Panthers and Jets were playing in Helsinki, Finland, for the supposed purpose of showcasing to the Europeans what a great league the N.H.L. is. Was Lemieux's immoral hit on Trochek really an example of the N.H.L. having put its best skate forward? Methinks it was not.
Last season, Vincent Trocheck registered 75 points in 82 games, and has 9 points in 11 games thus far, this season, whereas Brendan Lemieux has 0 points in 9 games this season. The N.H.L. is in massive denial that it has a very real problem concerning its pathogenic culture that is characterized by many of its less talented players intentionally injuring its much more talented players.
That unethical behaviour has become epidemic in the N.H.L. That is exactly why more than 100 former N.H.L. players, including two of the three Maple Leafs' only 50 goal scorers in Rick Vaive and Gary Leeman, as well as former N.H.L. Rookie of the Year and Olympian Bryan Berard whom also played for the Toronto Maple Leafs, are in the process of rightfully so filing lawsuits against the N.H.L. for damages that seek around $1 billion in compensation from the N.H.L. for its having "legalized" blindsided hard body checks that start miles away from the puck and from across the ice, and that are injurous to players (irregardless of whether they cause head concussions or not), and despite the fact that it is 100% illegal in both Canada and the U.S.A. for any employer not to provide for a safe working environment.

The N.H.L. wants to someday have its divisions to be inclusive of teams in China, which has an abhorrent human rights record, but so long as its games are played only in North America and Europe, it is illegal for N.H.L. owners not to provide their player with a safe working environment.

Non-hockey plays, whether "legal" or not according to the N.H.L.'s rulebook, are nothing but revolting to many of us fans who value the great game of hockey that is itself much larger than the N.H.L.'s brand of hockey. The N.H.L. has yet to realize that the players are human beings, first and foremost, and hockey players second.
Those non-hockey plays force those of us who possess a conscience for the fact that the players have their own lives to live when off the ice, and for decades after their retirement, to turn away in disgust from the N.H.L.'s barbaric brand of hockey, as we ourselves are seeking to temporarily escape from the fake news bullshit or whatever pain and suffering it is we have been dealing with as best that we can in each of our own personal lives. Thus, we who care about the great game of hockey are influenced turn away from the N.H.L.'s brand of hockey that doesn't give a damn about its star players—or any of its players—and towards the N.B.A. and M.L.B. where the players there typically have much more respect for themselves, each other, and the sport that they themselves play.

In an attempt at damage control, Gary Bettman recently upheld the N.H.L.'s Department of Safety's 20 game suspension against Wilson—not because he and the N.H.L. owners actually "get it" that providing a safe working environment on the ice for the players is much more important than the N.H.L.'s brand of hockey itself—but only because judges in USAmerican and Canadian courts of law will likely be ruling in favour the N.H.L.'s former players, and to the tune of more than a billion dollars, in the upcoming lawsuits that are currently being filed in the hundreds against the N.H.L. by the lawyers of the N.H.L.'s former players that also includes former 1st overall draft pick Joe Murphy who played for the Edmonton Oilers, until his career suffered an untimely end due to his having suffered numerous head concussion injuries.
Had Wilson's suspension been for a small number of games, those judges would have had yet another strong reason to themselves rule against the N.H.L. in its not having warned those hundreds of former players against the dangers of head concussion injuries and other injuries, along with the N.H.L. having used for decades its marketing and promotional materials to cultivate a culture on the ice that does not respect the health and well-being of its players.
But as Jacob Trouba of the Winnipeg Jets was not suspended for his having recently intentionally injured Auston Matthews in a game that was broadcast nationwide by N.B.C. in the U.S.A., and when the N.H.L. was also supposedly putting its best skate forward to promote its brand, it is clear that the N.H.L.'s players, and especially its star players, are not yet safe from being viciously assaulted by jealous goons.
That the N.H.L.P.A., which is led by Donald Fehr, did appeal Wilson's 20 game suspension instead of its having flat-out told him that it does not represent any member who did intentionally injure any other member of the N.H.L.P.A., is morally disgusting, and it goes to show how divided the players' union is behind the scenes, and what a coward and weak leader Donald Fehr is.
Connor McDavid, Sidney Crosby, and Taylor Hall each know full well that any of them might be next on Wilson, Trouba, or Lemieux's hit list. They know that after the unrepentant Wilson's 20 game suspension has been served, there is absolutely nothing which the N.H.L. has done to stop that stubborn pig from horribly injuring yet another player as he has done so many times already, and as Jacob Trouba of the Jets most recently did to Matthews and without his having been disciplined for having done so.
The N.H.L. has been issuing longer and longer suspensions on a case-by-case basis, but that is ineffective, as there will always be another goon to take the suspended goon's place. What there needs to be, is for all dirty players to be immediately banned for life from the league if ever they intentionally injure any other player, as Wilson has done so many times, as Trouba has done so many times. The N.H.L.P.A. needs to do its part, too, by banning for life any and all of its members from being represented by the N.H.L.P.A. if they did intentionally injure another member of the N.H.L.P.A. To see what constitutes "intention" please read my "Patriotic Dissent: P2: How We Know that Wilson Intended to Injure Sundqvist".

Lest we forget, Steve Moore, formerly of the Colorado Avalanche, wasn't able to play ice hockey again after Todd Bertuzzi, formerly of the Vancouver Canucks, intentionally injured him on March 8th, 2004. To this day, Steve Moore's life has not yet returned to normal. His medical expenses have been astronomical, and could only have been covered from his having filed a lawsuit against Bertuzzi and then having received a multi-million dollar settlement in its stead. As Moore was not himself a star player, he had little choice but to file a lawsuit against Bertuzzi himself because the N.H.L.'s Players Emergency Fund did not come close to covering his medical expenses.
Apparently, according to Gary Bettman, the N.H.L.'s Department of Player Safety's recent 20 game suspension against Tom Wilson has provided further evidence to the courts that it [the N.H.L.] now agrees that hits to the head—whether direct or indirect—has no place in the N.H.L. But as for other intentionally caused injuries, like that which Matthews suffered at the hands of Trouba, it could care less. That is why Gary Bettman and the N.H.L. are being sued by the players, and why more than a hundred former N.H.L. player are right to have filed lawsuits against the N.H.L. that will not only result in all head concussions being completely banned from the league, but also for all hard bodychecks that begin miles away from the play to be banned from the league too—else the dirty players whom intentionally cause those injuries, to themselves be banned for life from the league.
When will the N.H.L.'s commissioner Gary Bettman that schmuck realize it is wrong for any player to have intentionally injured another player—irregardless of whether it caused a head concussion injury or not? When will the N.H.L.P.A. that is led by Donald Fehr stop filing appeals on behalf of its dirty players and instead ban them from the N.H.L.P.A. for their having intentionally injured any of its members? When will Tom Wilson the stubborn pig himself realize that? When will the evil Jacob Trouba and Brendan Lemieux each realize that? After Lemieux or Trouba or Wilson has become the first player in modern history to be banned for life from the league? Not even then, as we all know.
Until all hits that are intended to have injured another player are completely removed from the N.H.L.'s brand of hockey, by means of banning for life dirty players such as Wilson, Trouba, and Lemieux, the N.H.L. and the N.H.L.P.A. will each remain complicit in their having greatly reduced the quality of life for so many of their current and former players. Hopefully, Bettman, Fehr, Wilson, Trouba, and Lemieux are the last of a dying breed. Hopefully, a new generation of hockey personnel on both sides of the table will put a stop, once and for all, to the N.H.L.'s brand of hockey being ruined by them and their ilk.
In 2016, the Black Knight Sports & Entertainment's application was approved and its consortium of co-owners was awarded an expansion franchise, which they named the Las Vegas Golden Knights, after their having agreed to pay $500 million to the N.H.L. as an expansion fee. As hundreds of former N.F.L. players in 2013 did together receive a settlement of $765 million from the N.F.L. for their having suffered debilitating head concussion brain injuries, it is likely that nowadays a billion dollar settlement to the N.H.L.'s former players is on the N.H.L.'s horizon. That is why Vegas, and now Seattle have each been awarded an expansion team, and why hockey-crazed Quebec City has yet to be awarded a new expansion franchise, and why hockey-crazed Toronto has yet to be awarded a second team that is also an expansion franchise.
In doing so, the N.H.L. will be able to recoup its losses—that is also how Bettman will be able to show the owners that he has earned for the league a profit despite its having to make a settlement with more than a hundred former N.H.L. players for around $1 billion.
Thus, the new N.H.L. expansion franchises are being paid for with blood money.
Those of us hockey fans in Las Vegas, Seattle, Quebec City, and Toronto whom haveth a conscience, and thus whom appreciate good sportsmanship, and who respect what the Lady Bing Memorial Trophy represents doth recognize that besides their being our heroes on the ice, those same players off the ice are as human as the rest of us. Our conscience, which is sacred to us, will not allow us to forget that fact that our city's new expansion team did come into existence at the expense of Rick Vaive, Gary Leeman, Bryan Berard, Joe Murphy, and more than a hundred other players—and that like Sundqvist, Matthews, and Trocheck, not one of them deserved to have been injured on the job.
Damn you, Gary Bettman. Damn you Donald Fehr. Damn you Tom Wilson. Damn you Jacob Trouba. Damn you Brendan Lemieux. And damn all you corporate sports reporters, analysts, and play-by-play commentators who make excuses for those dirty players and their dirty plays. And damn any devoid-of-conscience N.H.L. fans that would make any excuses for those bastards having been ruinous towards the great game of hockey, too.