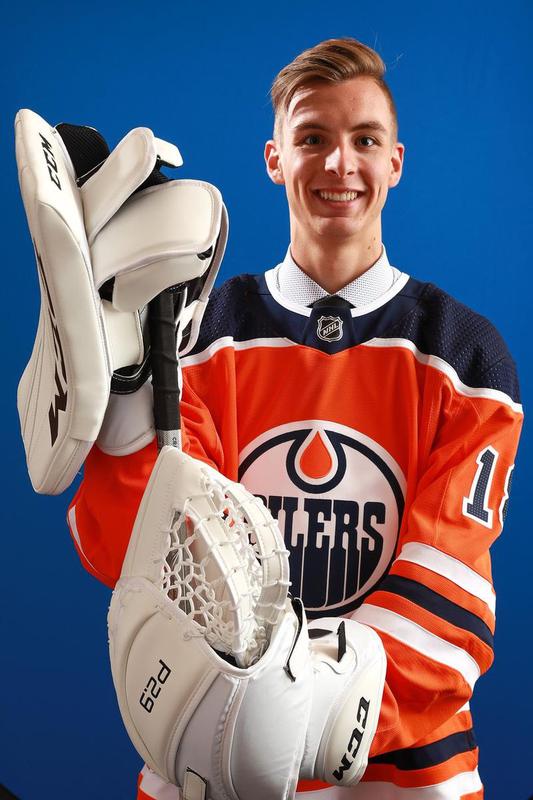 DALLAS - Throughout the season, Olivier Rodrigue thought he would not be drafted by the Edmonton Oilers, the organization for which his father acts as coach of the development of goaltenders. After all, the Oilers have been refueling at this position in the last few years.
But there was always a little "and if" that clung to his thoughts and the magic of the drafting operated again. Prior to the announcement of the 62nd and final second round selections, a transaction was announced allowing the Oilers to acquire this selection from the Canadien.
Immediately, Rodrigue's heartbeat shot up. And if the Oilers had just acquired the necessary choice to select him, he said to himself. He did well reflecting about it because that is exactly what happened in a scene that reminded of the selection of Anthony Brodeur by the New Jersey Devils or that of Daniel Audette by the Canadien.
"It's really special, it warms the heart that they made a transaction to pick me. It will be different to work with my father, but I think it will bring beautiful things" said Rodrigue who had tears in his eyes by these great emotions.
Again, this selection seemed almost impossible. Both men had been very honest about this in this profile.
"To be honest, I did not think it would be with them. I know the goaltenders they drafted, " Rodrigue admits while still in shock after the beautiful precious minutes with family.
The 17-year-old goaltender introduced himself to the media followed by his father who had a huge smile frozen on his face.
"It's a very special feeling. Keith Gretzky (the Oilers deputy Chief Executive Officer) immediately teased me saying 'I told you so!' But that's not true, he did not tell me anything. It's really fun," said Sylvain, who saw that his son was starting to find time in the stands as the first ranked goaltender in North America.
This privileged moment will even continue over the next few years as the Oilers are one of the teams to hold their development camp immediately after the draft. Sylvain already had his ticket in his pocket for Edmonton while Olivier had brought his equipment to Dallas knowing he could leave with one of these formations.
So the father and son will live this fascinating step together.
"I admit that I had already thought about the possibility of being on the ice with him, I'm not crazy though. I knew that the organization loved him and that his interview went well," said the father who played for the Chicoutimi's Saguenéens.
"It'll be different with my dad! "
The Oilers' decision also adds a new dimension to the relationship between the two men. Gone are the days when Sylvain was content with giving some advice to act as father before anything else. Now he becomes his coach.
"I think we'll have to sit down!" said Sylvain while laughing. "It was my wife who asked him what's he was going to do if the Oilers ended up drafting him. Now, I have to do my job. There is no more could've 'That's my guy ...'. He knows it and he told my wife that it would be different because I was going to push him, but it would be to make him better. "
The Voltigeurs goaltender in Drummondville will always be able to count on his father when he needs it, but he knows he will not receive any privilege in the context of hockey.
Like other goaltender at the Oilers' NHL seedling, Rodrigue will have to try to win.
"It creates a competition, but, as I tell young people, everyone is pushing themselves in the NHL to see who will stand out. It's up to young people to make their way. We are here to help them, but they do the rest" said Sylvain.
The good news is that the goaltenders coach will not need to dissect his son's work to determine his strengths and weaknesses.
"He will have to learn to deal with a lot of traffic in front of and around him. We know he does not have a huge size, but he has shown that he can survive in this environment with his other qualities. He avoided injuries even playing a lot of games (more than 70, counting international ones). It's quite rare to see a goaltender who has played 100 games in the QMJHL at 17" said his father.
Source: https://www.rds.ca/hockey/lnh/reunion-pere-fils-contre-toute-attente-1.6181237