Before I start talking about the game I just want to mention that it's been a rough last couple of weeks for the alumni of the Vancouver Canucks. CBC paid tribute to both Emily Griffiths, the wife of former Canucks owner Frank Griffiths, and André Boudrias, former Canucks player who was the Canucks first offensive star player back when they entered the NHL back in 1970.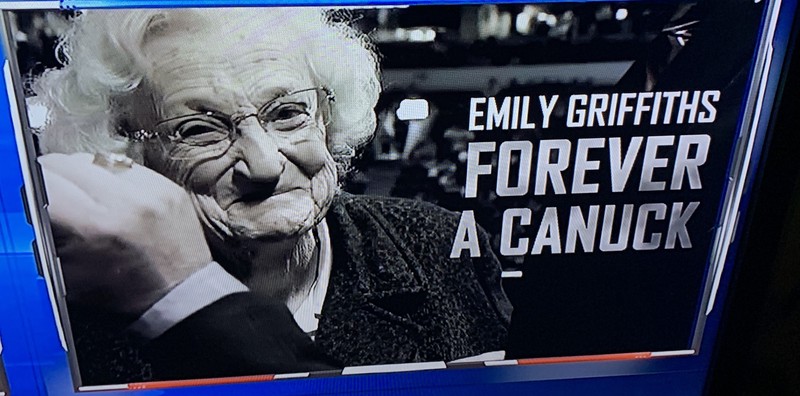 I never saw Boudrias play, but my father has spoken glowingly about him to me over the years. I can remember Emily Griffiths dancing up in the owner's luxury box after the Canucks beat the NY Rangers in the 1994 Stanley Cup Finals when the Canucks won Game 6. It was the first time the Canucks were only one win away from winning it all. I think Emily Griffiths dance sort of symbolized just how Canucks fans like myself were all feeling across the Greater Vancouver area, (I lived in Coquitlam at the time) B.C., Canada, and the rest of the world after that game! RIP to both!
Now to the game!
CBC showed Canucks Alumni Garth Butcher signing autographs for fans before the game. It was good to see Butcher looking healthy and happy. He came from an era where no one thought about concussion brain damage and Butcher was one hard nosed defenceman that wasn't shy to chuck his fists back when I was growing up in the late 1980s. Good for Garth!
The HNIC broadcast team is talking about how the Canucks are still in the playoff mix. I think as a Canucks fan, even I'm surprised they have looked as good as they have at times this season. The only thing I'm worried about is injuries. Alex Edler is out with a concussion and Sven Baertschi has been diagnosed with post concussion syndrome. I think Baertschi may very well has played his final game as a Canuck, maybe even his final NHL game. Multiple concussions aren't good for anyone. I hope Baertschi can return to hockey.
The Flames are first in the Pacific and the broadcasters say they're healthy. That doesn't bode well for a Canucks team that has Alex Biega on their defence. They also are playing up the marquee matchups. Gaudreau vs Pettersson and Rittich vs Markstrom. Personally, I think it's more of a matter if the Canucks depth can match the Flames depth.
Pettersson has scored 6 points in 3 games against the Flames so far. Sweat, Calgary, sweat!
I'm noticing most of the crowd still sings "in all thy sons command" instead of "in all of us" command when they sing along to the national anthem. What do you expect when your federal government changes the national anthem without consulting their people first?
As the games starts, HNIC tells us what the lines and defensive pairings are. The Canucks defence looks downright thin without Edler. I don't see how the Canucks can afford to trade him. Then again, I don't see how they can just give him an outrageous free agent calibre contract, either.
HORVAT SCORES
Only 44 seconds into the game. Horvat has been slumping a bit. Only 1 goal in his last 7 games and he looked good when he scored that goal. Maybe he'll go on a tear from here?
Michael DiPietro is the Canucks backup tonight. Thatcher Demko got hurt a few days ago. Hopefully he won't have to go into this game.
Both goalies get tested early and look good. This game looks like it won't be a shootout.
I think Boeser must not be 100%. He seems to be missing the net a lot more this year than last.
LINDHOLM SCORES
Lindholm has 24 goals this season. That was a quick shot. Looks like he's probably getting less press than Rittich, Giordano, Monahan, and Gaudreau and is quietly having a great year.
LEIVO SCORES
it's not often you see players score from outside the face off circle in the NHL on a wrist shot. Leivo is another player who's quietly having a good year.
BENNETT SCORES
Tie game at 2-2.
Gaudreau has a breakaway with 10 seconds left- Markstrom makes a huge stop.
2-2 tie to end the First period.
2nd Period
The Flames come out blazing. Markstrom is keeping the Canucks in the game. At one point the Flames have the Canucks outshot 28-12. You can see just how much better the Flames depth is than the Canucks.
MANGIAPANE SCORES
A nice one time slapshot. It's his first NHL goal. Good for him. Flames lead 3-2.
BOESER SCORES
Another one time slapshot- this one off a nice pass from Pettersson. Pettersson continues to amaze! Tie game 3-3.
Second period ends with Flames outshooting Canucks 33-17.
3rd Period
Boeser gets a tripping penalty.....
HUGE penalty kill by the Canucks! If the Canucks steal even a point out of this game, it'll be huge.
Markstrom keeps coming up big! He's stealing this game for the Canucks!
Biega accidentally whacks James Neal in the mouth and knocks his teeth out! OUCH! Biega gets a 4 minute penalty! Biega has had a bad game tonight.....
The Canucks PK continues to look good. They've come up huge in this game! Of course, Markstrom keeps coming up big and that always helps.
Markstrom continues his dominance- another big stop late!
Third period end. Game still tied 3-3. Calgary has outshot the Canucks 47-24.
3 on 3 overtime is exciting, but solves nothing....
SHOOTOUT
Pettersson SCORES- he continues to amaze!
Tkachuk STOPPED
Boeser STOPPED
Monahan STOPPED
Granlund STOPPED- Can Markstrom finish this game off?
Toothless James Neal- STOPPED
Canucks win 4-3! Markstrom steals the game!
No doubt about it. Markstrom was something else tonight. He stole this one.
The Canucks are hanging in there. I honestly think they can make it. The only problem is that they can't afford to have too many injuries. A couple of injuries to their best players and they'll fall out of contention real fast.
If anything, the Canucks are a fun team to watch! It's going to be a lot of fun writing these random notes to you all on Canucks games as the season wears on!