Well, the Canucks defeated the NY Rangers today. They've won 4 out of the last 5 games now! Love the skill our young guys are displaying!
I have another pack of 2016-17 Upper Deck Series One today! I've had really good luck on these 2016-17 packs, so why mess with success?
Here's the video link! Sorry about videotaping at the wrong angle. For some reason, my phone didn't level out when I filmed. Please subscribe to my YouTube channel at Shaun's Collectibles!
I got a really good Young Guns Rookie! The only thing that's funny about it is it's the same Young Guns Rookie I got just around a week ago!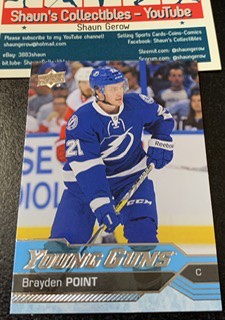 It's kind of funny to get a second Brayden Point Young Guns Rookie so fast, but it's a good Young Guns Rookie to get, so I'm not complaining! I haven't listed on eBay too much, recently. It's time to get back into the swing of things and start making some money on eBay!
Please check back tomorrow for Hockey Card Pack Break 110!
Contact me for buying and trading here, or through the following ways:
eBay: 3883shaun
YouTube: Shaun's Collectibles
Facebook: Shaun's Collectibles
Bittube: ShaunsCollectibles
Minds:ShaunsCollectibles
Reddit: shaunscollectibles
Instagram: shaunscollectibles
Steemit: shaungerow
Scorum: shaungerow
Happy Collecting! 😁