It's been a super busy week with Halloween this past week! It's hard to blog with so much going on, but I'm managing it!
I have a pack of 2016-17 Upper Deck Series One! Auston Matthews Young Guns Rookie, here I come!
Here's the video link! Please subscribe to my YouTube channel at Shaun's Collectibles!
I got two hits today!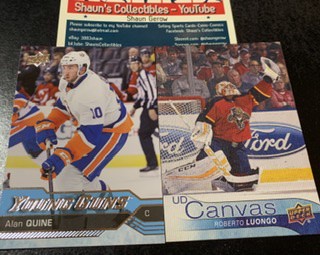 The Roberto Luongo Canvas is going into my personal collection! The Alan Quine Young Guns Rookie is the icing on the cake for a pretty good pack!
On a side note, today was interesting in the Canucks nation. It wasn't on national tv, but the Canucks lost in overtime to the Ducks tonight. Not good, but the Canucks are still picking up points in the standings. It's Hockey Night in Canada tomorrow with the Canucks playing the San Jose Sharks! I'll be watching!
Contact me for buying and trading here, or through the following ways:
eBay: 3883shaun
YouTube: Shaun's Collectibles
Facebook: Shaun's Collectibles
Bittube: ShaunsCollectibles
Minds: ShaunsCollectibles
Reddit: shaunscollectibles
Instagram: shaunscollectibles
Steemit: shaungerow
Scorum: shaungerow
Happy Collecting! 😁