It's been a really busy last few days, so my daily Hockey Card Pack Breaks have fallen by the wayside a little bit, but that stops tonight! My son had the Ford Small Stars game and he got sick the day after. He's now on the mend, so here we go!
I have another pack of 2016-17 Upper Deck Series One! I've been having some decent luck with getting Young Guns Rookies today, so let's keep it going!
Here's the video link, please subscribe to my YouTube channel at Shaun's Collectibles!
I got another Young Guns Rookie! A decent, but not great one!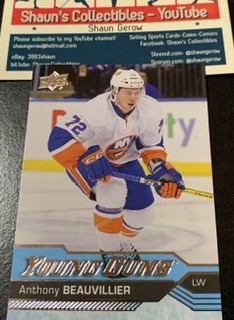 Beauvillier was a good junior, so I can't complain about this pack! I'll probably put this card up on eBay when I have more free listings.
I went to Walmart yesterday and picked up some more 2016-17 Upper Deck packs. There don't seem to be any more 2015-16 packs left in the Walmart's here in Edmonton. The 2016-17 packs seem to be disappearing. I haven't seen any 2017-18 packs in a while, and there are a ton of 2018-19 packs. I think I know where this is heading. I think I'm a few weeks, most of my videos will be on 2018-19 packs, which suits me fine. I'll keep opening those until I get an Elias Pettersson Young Guns Rookie Card!
Please check back soon for Hockey Card Pack Break 121!
Contact me for buying and trading here, or through the following ways:
eBay: 3883shaun
YouTube: Shaun's Collectibles
Facebook: Shaun's Collectibles
Bittube: ShaunsCollectibles
Minds: ShaunsCollectibles
Reddit: shaunscollectibles
Instagram: shaunscollectibles
Steemit: shaungerow
Scorum: shaungerow
Happy Collecting! 😁