It was a good Sunday today! I took my son to another hockey practice while I coached! My son and wife have been under the weather this past week, but my son was well enough to go to practice! My wife stayed home to rest up. It's always fun to help out the young kids!
I have another pack to break open for you all tonight! Another pack of 2016-17 Upper Deck Series One! Let's go!
Well, no Young Guns rookie today, but I got a rookie card.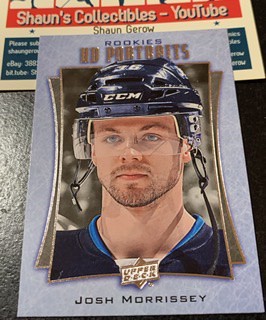 I know quite a few Winnipeg Jets fans. Maybe I can get them to shell out a dollar or two for this card? If not, it'll be going up on eBay later this month.
A lot of people thought the Jets would tank this season after all the players they lost. It hasn't happened, at least not yet. Maybe we all underestimated their depth? Time will tell.
Please check back soon for Hockey Card Pack Break 123!
Contact me for buying and trading here, or through the following ways:
eBay: 3883shaun
YouTube: Shaun's Collectibles
Facebook: Shaun's Collectibles
Bittube: ShaunsCollectibles
Minds: ShaunsCollectibles
Reddit: shaunscollectibles
Instagram: shaunscollectibles
LinkedIn: Shaun Gerow
Steemit: shaungerow
Scorum: shaungerow
Happy Collecting! 😁