As the days tick down to the Boxing Day Sales at my local hockey card shops, I sit here aching to open some higher end hockey card packs other than the usual regular Upper Deck packs! I'm really an autograph collector at heart, and it's so rare you'll get autographs out of these regular Upper Deck packs, that I don't think about it. Money's been tight lately, so I've had to cut back on the money I spend on collecting. That should end on Boxing Day!
Here's the video link, please subscribe to my YouTube channel at Shaun's Collectibles!
I got a pretty decent Young Guns Rookie today!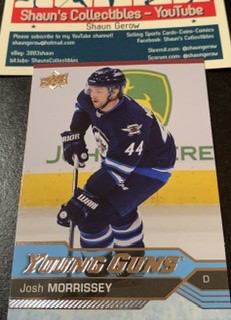 It isn't a grand slam Auston Matthews hit, but Josh Morrissey is having a good season with the Jets this year. Canadian team hits always sell! I did well today!
On a side note, there aren't any Canucks games til Saturday afternoon. What will I do with my time? I found out it'll be a retro 1980s night in Vancouver that night. That should be interesting. The Canucks will be wearing their old yellow Flying V jerseys! Those will bring back memories!
Please check back tomorrow for Hockey Card Pack Break 129!
Contact me for buying and trading here, or through the following ways:
eBay: 3883shaun
YouTube: Shaun's Collectibles
Facebook: Shaun's Collectibles
Bittube: ShaunsCollectibles
Minds: ShaunsCollectibles
LinkedIn: Shaun Gerow
Steemit: shaungerow
Scorum: shaungerow
Happy Collecting! 😄