Well, my Vancouver Canucks are slumping. Three straight losses and they're out of a playoff spot. The Canucks haven't looked great during this losing streak, either. Not good!
Onto more positive things! I have another pack of 2016-17 Upper Deck Series Two for all of you Scorumites for my Hockey Card Pack Break!
Here's the video link, please subscribe to my YouTube channel at Shaun's Collectibles!
I got a rookie card today, albeit not a Young Guns Rookie.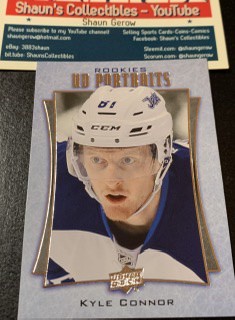 Well, getting a Kyle Connor Rookie is a pretty good Rookie. The bad thing is that portraits cards don't sell on eBay very well at all. I will eventually list this on eBay! I have a friend who's a huge Winnipeg Jets fan. Maybe I should try to sell it to him on the cheap!
YouTube channel update: I just picked up a new subscriber tonight- I'm at 138 subscribers! I'm not lighting the world on fire by any stretch, but I keep growing! I've been thinking of trying to do some online promotion for my channel. I'd love to get to 1000 subscribers and monetize my channel! If you haven't subscribed to my channel yet, what's stopping you? You can be my 139th subscriber! 😆🤣😂
Contact me for buying and trading here, or through the following ways:
eBay: 3883shaun
YouTube: Shaun's Collectibles
Facebook: Shaun's Collectibles
Bittube: ShaunsCollectibles
Minds: ShaunsCollectibles
Reddit: shaunscollectibles
Instagram: shaunscollectibles
LinkedIn: Shaun Gerow
Steemit: shaungerow
Scorum: shaungerow
Happy Collecting! 😃