After a busy holidays, life is beginning to return to normal and it's time to get back to my Hockey Card Pack Breaks!
I'm still checking out my local Wal-Marts for cheap Upper Deck packs and I keep finding 2016-17 and 2018-19 packs. There's definitely some really good Young Guns Rookie Cards in those years!
Here's the video link, please subscribe to my YouTube channel at Shaun's Collectibles!
I got a good Young Guns Rookie Hit today!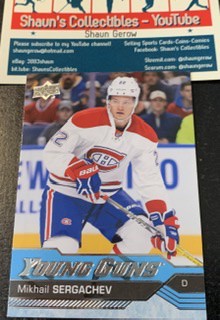 Not spectacular, but solid. This will go on eBay!
We're going into the stretch drive of the NHL season after the all-star break! It's going to be interesting to see who's able to make the final push for the playoffs! Go Canucks!
Please check back soon for Hockey Card Pack Break 134!
Contact me here for buying and trading here, or through the following ways:
eBay: 3883shaun
YouTube: Shaun's Collectibles
Facebook: Shaun's Collectibles
Minds: ShaunsCollectibles
Bittube: ShaunsCollectibles
Reddit: shaunscollectibles
Instagram: shaunscollectibles
Steemit: shaungerow
Scorum: shaungerow
Happy Collecting! 😁