It's bizarre to be spending this NHL All-Star break week without hockey. No highlights. No radio. No tv. It's bizarre. But I have another way of getting my hockey fix in! Open another pack of hockey cards!
Here's the video link! Please subscribe to my YouTube channel at Shaun's Collectibles!
I got another Young Guns hit! That's two packs in a row!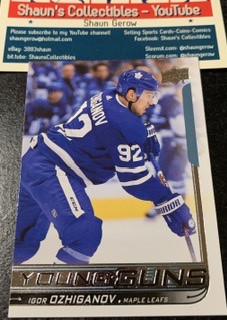 Igor Ozhiganov is playing in Russia at the moment. He played about half a season for the Leafs, then it appears he went back to Russia. I wonder if he'll ever come back to the NHL?
This definitely isn't a huge hit, but at least it's a rookie! I've already listed this card on eBay. It's at this link:
https://www.ebay.ca/itm/Igor-Ozhiganov-18-19-Upper-Deck-Series-One-Young-Guns-Rookie-247-Toronto/114078985411?pageci=b85360af-9b3c-4e5f-b9b9-c7e018eae509

Please check back soon for my next hockey card video!
Contact me for buying and trading here , or through the following ways:
eBay: 3883shaun
YouTube: Shaun's Collectibles
Facebook: Shaun's Collectibles
Bittube : ShaunsCollectibles
Minds: ShaunsCollectibles
Reddit: shaunscollectibles
Instagram: shaunscollectibles
Steemit.com: shaungerow
Scorum.com: shaungerow
Happy Collecting! 😁