After a bit of a dry spell, I've been finding some pretty good Upper Deck packs at Walmart. I did a Hockey Card Pack Break a few days ago, so it's time to get back to blogging!
Today, we have a pack of 2018-19 Upper Deck Series Two! I haven't gotten a Carter Hart Young Guns Rookie Card from this set yet. Let's go for it!
Here's the video link, don't forget to smash the like button! Please subscribe to my YouTube channel at Shaun's Collectibles!
Well, no Young Guns Rookie, but I got a rookie card.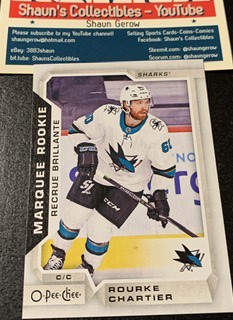 So this pack wasn't a waste, but it wasn't good, either. I'd honestly never heard of Rourke Chartier before I opened this pack. That usually doesn't bode well for the value of a rookie card. I've already put this card on my eBay store.
Hockey Day In Canada is coming up soon! Sports Card shops always have big sales that day! I'm sure I'll have some big boxes to open then! I'll have big cards you'll all love to see!
Check back soon for my next Hockey Card video!
Contact me for buying and trading here, or through the following ways:
eBay: 3883shaun
YouTube: Shaun's Collectibles
Facebook: Shaun's Collectibles
Minds: ShaunsCollectibles
Bittube: ShaunsCollectibles
Instagram: shaunscollectibles
Reddit: shaunscollectibles
Steemit: shaungerow
Scorum: shaungerow
Happy Collecting! 😃