A while back, I bought a Walmart pack of random hockey card packs. This pack was in it- 2017-18 CHL Hockey!
I was actually a season ticket holder for the Prince George Cougars for 4 seasons back in the late 1990s. I don't watch much junior hockey anymore, but I do like junior hockey!
Here's the video link, please subscribe to my YouTube channel at Shaun's Collectibles!
I actually managed to get two hits in this box! One was an autograph! Not bad!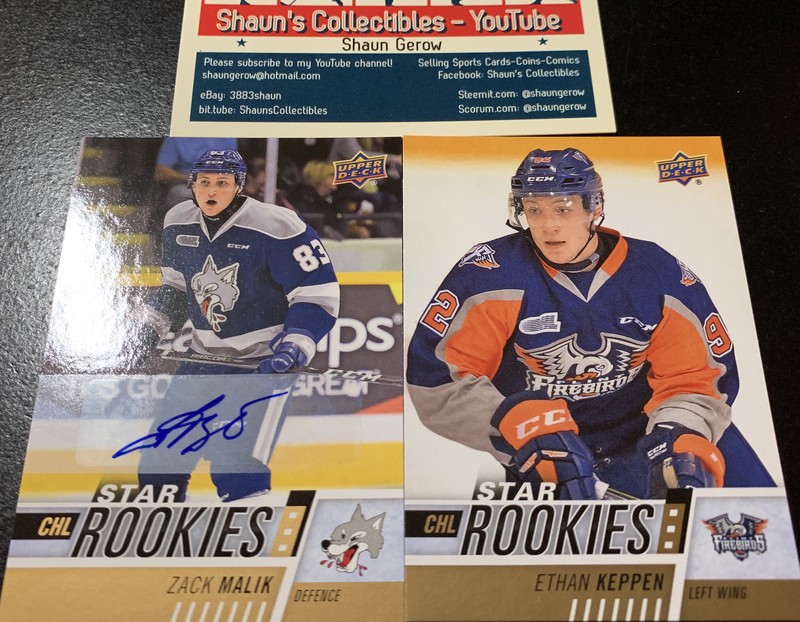 Anytime you get an autograph, you've done all right in a daily pack break. I don't know if Zack Malik will play in the NHL or not, but I'll add this autograph to my collection!
Please check back tomorrow for Hockey Card Pack Break 53!
Contact me for buying and trading here, or through the following ways:
eBay: 3883shaun
YouTube: Shaun's Collectibles
Facebook: Shaun's Collectibles
Bittube: ShaunsCollectibles
Minds: ShaunsCollectibles
Reddit: shaunscollectibles
Instagram: shaunscollectibles
Steemit.com: @shaungerow
Scorum: @shaungerow
Happy Collecting! 😊