I got a variety of hockey card packs from
a Walmart Box a while back. A pack of 2016-17 Upper Deck Parkhurst was in one of them. This is the pack!
Here's the video link, please subscribe to my YouTube channel at Shaun's Collectibles!
I got a couple of lower end hits.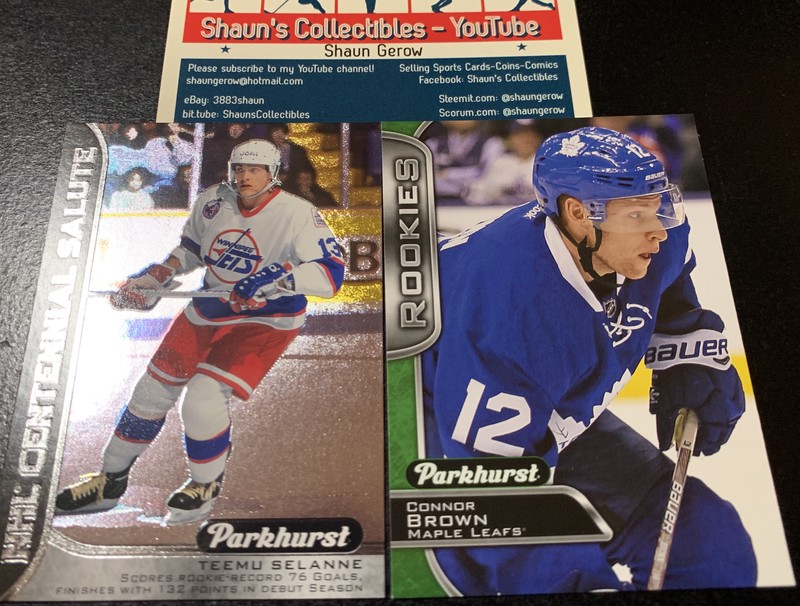 The Connor Brown Rookie isn't worth much, but at least the Teemu Selanne looks really nice! I still remember when he broke into the league and scored 76 goals in his rookie season! I wasn't a Jets fan, but I sure took a liking to The Finnish Flash!
Please check back tomorrow for Hockey Card Pack Break 55!
Contact me for buying and trading here, or through the following ways:
eBay: 3883shaun
YouTube: Shaun's Collectibles
Facebook: Shaun's Collectibles
Bittube: ShaunsCollectibles
Minds: ShaunsCollectibles
Reddit: shaunscollectibles
Instagram: shaunscollectibles
Steemit.com: @shaungerow
Scorum: @shaungerow
Happy Collecting! 🤟