This has been a busy week! My wife and son have been sick this week, but it's going to take something much more earth shattering for me not to do my daily Hockey Card Pack Break!
I have another pack of 2018-19 Upper Deck Series One for you all today! I have the feeling I'll be opening these packs until I finally score an Elias Pettersson Young Guns Rookie!
Here's the video link! Please subscribe to my YouTube channel at Shaun's Collectibles!
I didn't have a good day today, but at least I know goalie hits can sell on eBay.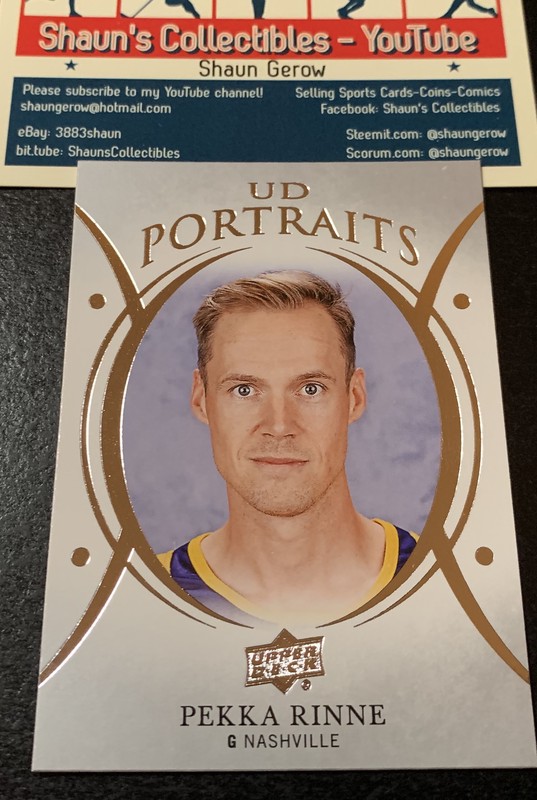 I can remember the Vancouver Canucks 2011 Stanley Cup Finals Run. The Canucks played the Predators in the second round and if my memory serves me correctly, Rinne was a big reason why the Predators were able to stretch the Canucks to a Game 6 in that series. He was a great goalie in his prime, but I'm not so sure where his game is at today in 2019.
Please check back tomorrow for Hockey Card Pack Break 89!
Contact me for buying and trading here, or through the following ways:
eBay: 3883shaun
YouTube: Shaun's Collectibles
Facebook: Shaun's Collectibles
Bittube: ShaunsCollectibles
Minds: ShaunsCollectibles
Reddit: shaunscollectibles
Instagram: shaunscollectibles
Steemit: shaungerow
Scorum: shaungerow
Happy Collecting! 😃