My son had his first official hockey practice today! It was a blast to watch him and all the other boys and girls have fun on the ice. I coached. At this age, you're more of a glorified helper than anything. There will be practices almost every weekend until March! I'm sure I'll do a blog on it one day!
I have another pack of 2018-19 Upper Deck Series One for my daily Hockey Card Pack Break! I have the feeling I'll keep going on this until I finally score an Elias Pettersson Young Guns Rookie!
Here's the video link! Please subscribe to my YouTube channel at Shaun's Collectibles!
I got a Young Guns Rookie! That alone makes it a decent pack!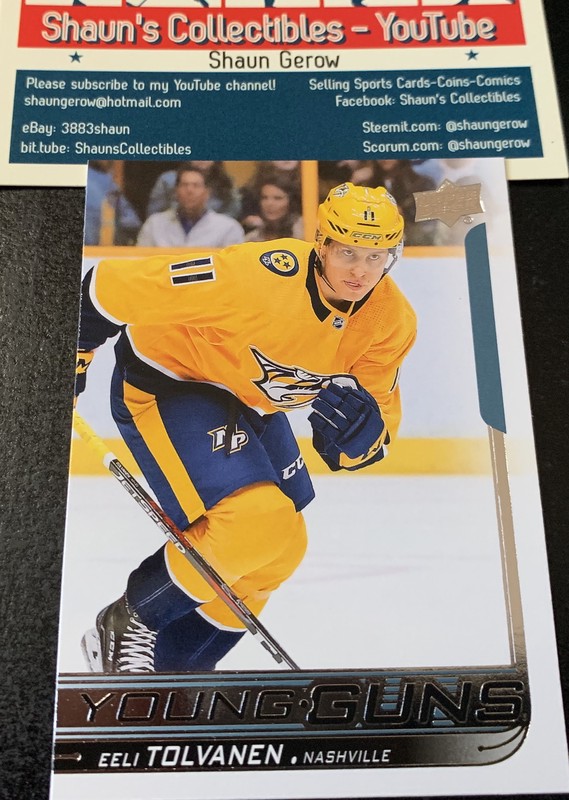 I must admit- I've never even heard of this guy before I saw this card. He was a late first round pick for Nashville back in 2017. He hasn't established himself as an NHL regular yet, but getting a Young Guns Rookie alone makes this a decent hit. I'll probably list this on eBay soon!
I was thinking of doing a giveaway for my 100th Hockey Card Pack Break! I'll let you Scorumites know if I do that!
Please check back tomorrow for Hockey Card Pack Break 97!
Contact me for buying and trading here, or through the following ways:
eBay: 3883shaun
YouTube: Shaun's Collectibles
Facebook: Shaun's Collectibles
Bittube: ShaunsCollectibles
Minds: ShaunsCollectibles
Reddit: shaunscollectibles
Minds: shaunscollectibles
Steemit.com: shaungerow
Scorum.com: shaungerow
Happy Collecting! 😀