It's always a good time whenever the Leafs and Canucks play against each other. The game was in Vancouver tonight. There's always a ton of Leafs fans in Vancouver it makes for a great atmosphere in Rogers Arena!
Elias Pettersson and Brock Boeser have been struggling as of late. It has a lot to do with why the Canucks have fallen out of a playoff spot. Boeser hasn't scored in 6 games. The Canucks have also lost 3 straight.
Elliotte Friedman on the pregame show on Sportsnet declared Elias Pettersson the Calder winner. No doubt about it. You just usually don't see anyone in the media declare it with about 15 games left in the season too often.
Just as both teams hit the ice just before the game, Leafs fan try to start up the Go Leafs Go chant. I can even remember that happening when the Leafs came to Vancouver all the way back in the 1980s when I was growing up.
Before the game starts the Canucks ran a nice tribute to Ted Lindsay. Classy!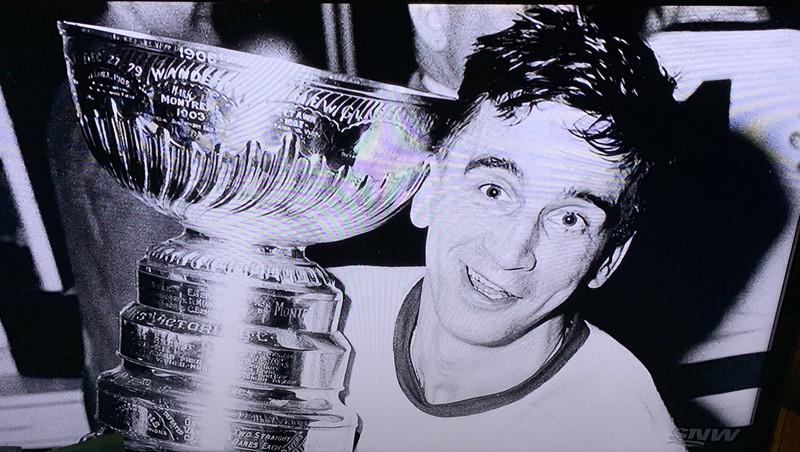 The broadcasters say Elias Pettersson hasn't scored since Valentine's Day. How unPetterssonlike.
Frederik Andersen vs Jacob Markstrom tonight!
FIRST PERIOD
Good end to end action to start the game. The crowd is into it. The crowd definitely makes a difference!
The Leafs and Canucks are going in different directions. Leafs are 5-1 in their last 6 GP. The Canucks are 3-8-3 since Feb 4. That's how you miss the playoffs.
The Canucks draw an early power play. Muzzin gets the gate for a slashing penalty at 3:52. I'm not optimistic. They have the 29th ranked power play in the NHL and it's looked horrible lately. Not surprisingly, they don't score and don't get much to the net. Worse yet, Ron Hainsey destroyed Alex Edler with a hit while the PP was on.
The Canucks have been shut out 9 times this season. Most of any team in the NHL. Yuck.
Both teams have their fair share of chances and both goalies are standing tall.
Mitch Marner is the fastest Leaf to get to 80 points in a season since Doug Gilmour did it faster in 1994. I've barely seen Marner play before this game and it doesn't take long for me to see why he's having a great year. He's all over the ice and he even goes in on a breakaway and gets thwarted by Markstrom. If this game has any indication, it's looking like he may be a better all around player than Tavares or Matthews. I'm glad I just put a Mitch Marner Upper Deck Young Guns Rookie Card in for grading recently! With some luck, I'll get a great grade on it.
0-0 tie at the end of the first period.
SECOND PERIOD
Pouliot PENALTY High sticking 3:44- The Leafs have a lot of skill up front. I'm amazed their power play is only 17th. You can really see the skill and speed they have out there on the power play. They move the puck well. Thankfully, they don't score.
Again, Leafs fans try to start the Go Leafs Go chant. Glad to hear Canucks fans try to drown them out.
MARLEAU PENALTY- hooking- 10:38- The Canuck power play is looking so bad, it's hard to watch. The Canucks don't get much going on it and they give up a good Leafs scoring chance to boot.
HAINSEY SCORES- shorthanded on a 2 on 1 pass from Mitch Marner!!!! You've gotta be kidding me. It's one thing if your power play doesn't score. It's another thing when you allow it to hurt you! YUCK! 1-0 Leafs
The Canucks have now allowed 8 shorthanded goals on the season.
REILLY SCORES- Double yuck. two Leafs goals in 34 seconds. A bad goal that sneaks in on the short side of Markstrom. The Leafs have yet to lose a game this season while trailing by two periods. Now the Canucks are down 2-0. I can see what little chance of a playoff spot disappearing.
Stetcher hits Matthews and knocks him on his ass. Good to see some pushback.
When Pettersson doesn't score the Canucks are 7-22-5. The way he's playing tonight, he just doesn't look sharp.
Both teams are playing well. I think you see the overall speed and skill of the Leafs as this game is wearing on. I'm not sure if the Canucks defence can keep up, especially without Ben Hutton and Chris Tanev out of the lineup.
2-0 Leafs END FIRST
Sportsnet says Quinn Hughes will sign with the Canucks at the end of his NCAA season. It'll be interesting to see if he makes a big impact right away. The Canucks have never had a Norris Trophy calibre defenceman. Will Hughes be that defenceman?
THIRD PERIOD
ERIKSSON SCORES- A nice backhand shot and pass from Adam Gaudette. Eriksson's first goal in 18 games. Adam Gaudette is really coming into his own. Watch out for him!
2-1 Leafs
LEAFS PENALTY- too many men! 3:22! Oh wow! Did the tide of this game ever turn around in a hurry! The crowd is back into it and now the Leafs took a bad penalty. Can the Canucks end their power play struggles?
LEIVO SCORES!!!!! The former Leaf scores a PP goal on a nice top corner wrist shot of a nice pass from Nikolay Goldobin at 4:13!
2-2 TIE
Uh oh- Tavares and Marner go in on a 2 on 1- Markstrom makes a huge glove save!
The crowd is ON! The atmosphere is great. It's exactly what you expect at a Canucks-Leafs game!
Both goalies have been great tonight! Overall, it's been a goaltending clinic. We're going to 3 on 3 overtime!
OVERTIME
The Canucks break out. All of a sudden, Pettersson looks like himself.
Can you ever see the higher end skill on both teams come out in 3 on 3 in this game. It'stoo bad we can't take it last longer. Both teams exchange chances. Boeser sends a long pass to Alex Edler!
EDLER SCORES! Canucks win 3-2! It's the Leafs first loss when leading after 2 period all season. The Canucks desperately needed two points out of this game to keep any chance of a playoff spot alive. I'm happy to see that the Canucks might be playing meaningful hockey in March!
Onto tomorrow for random notes when the Canucks play the Edmonton Oilers!