I haven't done a Scorum blog in a while, so I'm going to put my last box break video here on Scorum! I went out and bought a box of 2019-20 Upper Deck SP Authentic on release day! It was kind of exciting to go to my local card shop on release day. The shop was busy, the owner had to tell people they had to leave because the store was getting too crowded! I hurried home and posted the video on YouTube! Here's the video link, please subscribe to my YouTube channel at Shaun's Collectibles!
I got three autographs, which is one more than you're guaranteed in a box. I didn't get anything earth shattering in those autographs, but I got this: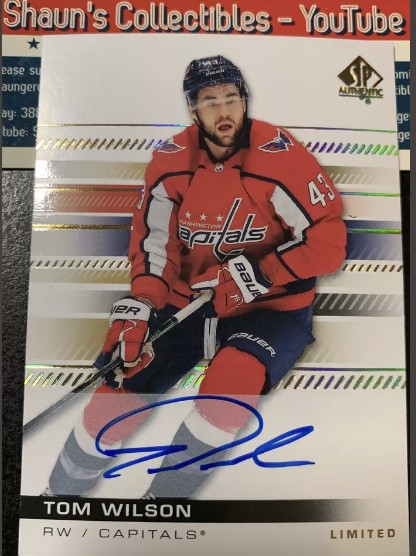 I already sold this Tom Wilson card. I put it up on eBay for $20, plus shipping and I sold it to an American overnight. I already had a Tom Wilson autograph in my collection, so this card was expendable. That's a win! I also got a Young Guns Rookie Exclusives card, which pretty well saved the box. It's already listed in my eBay store!
I know 2019-20 Upper Deck Ice is coming out soon! I'll probably do a video on that on release day as well!
Contact me for buying and trading here, or through the following ways:
eBay: 3883shaun
YouTube: Shaun's Collectibles
Minds: ShaunsCollectibles
Bittube: ShaunsCollectibles
Reddit: shaunscollectibles
Instagram: shaunscollectibles
LinkedIn: Shaun Gerow
Scorum: shaungerow
Steemit: shaungerow
Happy Collecting! 😃