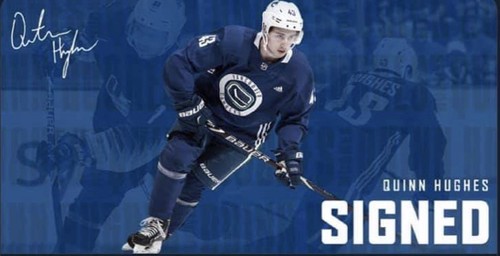 The last few years, I've seen a huge amount of hype around new Canuck draft picks like Brock Boeser, Elias Pettersson, and (to a lesser degree) Adam Gaudette. In all of my years, I've never seen hype around a defenceman taken in the draft like what there has been for Quinn Hughes.
Think I'm exaggerating? Dylan Larkin put Norris Trophy and Quinn Hughes in the same sentence last summer. That's high praise for a guy who was only 18 years old at the time. Unbelievably, Larkin compared Hughes to Duncan Keith! An NHL player would never compliment a player like that if he didn't mean it! You can check out the link to the article here:
https://www.sportsnet.ca/hockey/nhl/quick-shifts-quinn-hughes-jack-hughes-vancouver-canucks-norris-trophy-dylan-larkin/
What exactly are the Canucks getting in Quinn Hughes? I've only seen highlights of him on tv, but he sure looks like a fantastic skater and is really skilled. I can remember seeing him on draft day. He looked really tiny, but so did Elias Pettersson and we all know that draft pick has turned out really well.
The Canucks have been around for almost 50 years now and have never had a Norris Trophy calibre defenceman. Could that be the one thing the Canucks finally need to win their first Stanley Cup?
I don't know when Quinn Hughes will make his Canucks debut, but Canucks fans will be watching him like a hawk whenever he finally plays his first NHL game. Brock Boeser and Elias Pettersson made a huge impression with Canucks fans almost immediately and made the fan base realize better days are coming.
Will Quinn Hughes do the same?
Canucks fans will be watching!