Hello fellow Scorumites! It's been a while! I know it's been a crazy last few months, but it's time for another Hockey Card Box Break from your favourite pack breaker!
I got a box of 2017-18 Upper Deck Ice a while back before this pandemic really set in. I've always loved the Ice set! I love the looks of acetate cards and you get a guaranteed autograph in every box, so let's get started!
I got a huge Ice Premieres Die Cut Rookie Hit in this box!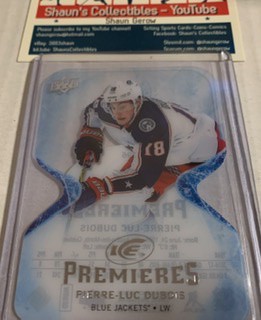 When I pulled this out of the pack, I didn't have a clue on just how rare this card was, but I saw on eBay it sold for $185 CDN, plus shipping a while back. Anytime you get a card that's worth more than the box, you've had a fantastic day! After this pandemic nonsense is over, I'll look into getting this card graded!
Stay tuned! I'll have another post soon!
Contact me for buying and trading here, or through the following ways:
eBay: 3883shaun
YouTube: Shaun's Collectibles
Facebook: Shaun's Collectibles
Minds: ShaunsCollectibles
Bittube: ShaunsCollectibles
Instagram: shaunscollectibles
Reddit: shaunscollectibles
LinkedIn: Shaun Gerow
Steemit: shaungerow
Scorum: shaungerow
Happy Collecting! 😁